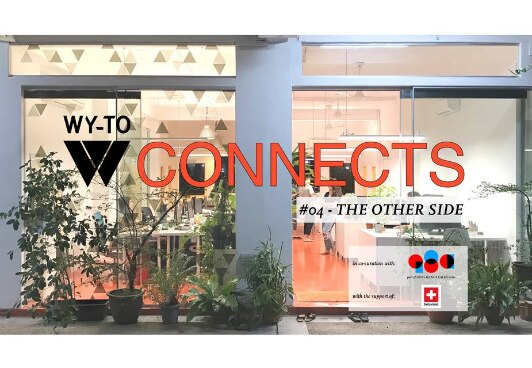 WY-TO Connects is a series of short presentations by multidisciplinary experts from the wider architecture and design industry, as well as businesses that employ design as a strategic tool. This 4th edition aims at creating new avenues of discussion in co-curation with G8A Architecture & Urban Planning, which has an international presence in Singapore, Vietnam and Switzerland.
The professions of architect and designer don't necessarily follow a conventional path. This year's theme "The Other Side" tackles the multifaceted routes in successful architectural & design careers and how people can find creative balance in pursuit of parallel alternative paths. Architects, designers and their practices often find themselves engaged in the wider context of knowledge outside of their fields, and are often being confronted with opportunities to develop themselves in other disciplines, geographical contexts or with technologically innovative tools.
Practitioners from the region will share their experience within the intimate setting of WY-TO studio located in Chinatown. Carlos Bañón, the co-founder of Subarquitectura Architects and Assistant Professor of Architecture and Sustainable Design at SUTD, and Trecia Lim, architect and active volunteer helping the communities in need, will unfold the ongoing evolution of their careers and methodology, which have been shaped by their specialisations and the perceived needs of humanity.
Manuel Der Hagopian, the co-founder and partner G8A Architecture & Urban Planning, and a special guest from Hanoi Takashi Niwa, the founder of Takashi Niwa Architects and former partner of Vo Trong Nghia Architects will show how their practices have diversified according to various cultural contexts, especially in Southeast Asia. 
Calvin Chua, an Adjunct Assistant Professor at SUTD who is active in a non-profit initiative in Democratic People's Republic of Korea through Choson Exchange, and the founders of Ministry of Design Joy and Colin Seah will be sharing their expertise in entering a foreign market.
Yann Follain, WY-TO's Managing Director and Festival Director of Archifest'18 "Design for Life" will moderate the talks and initiate an interactive conversation, wrapping-up the day of inspiring talks with networking and drinks. FOLLOW #wytoconnects on Facebook for the latest updates.
Registration
Everyone is welcome, but compulsory registration through Peatix, with 3 types of tickets corresponding to the 3 sub-themes that will be discussed. It's possible to register for multiple sessions.  Register now and go plastic-free with a complimentary shopper bag and luggage tag sponsored by the Embassy of Switzerland in Singapore.
Venue
WY-TO Block 34 Upper Cross Street #04-132 Singapore 050034