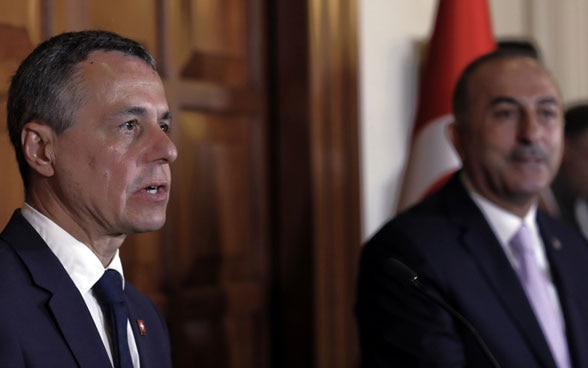 "From my visits and meetings in Nicosia, Athens and now here in Ankara, I have been able to form a differentiated picture of the Cyprus question, which remains unresolved," said Cassis. "Stability in the Mediterranean region is important not only for the countries concerned, but for the whole of Europe," he stressed after the talks with his Turkish counterpart. Switzerland is ready to offer good offices to help resolve the Cyprus question, added Cassis, for example by holding further rounds of talks if all parties are willing to return to the negotiating table. He had also communicated this personally to Mr Çavuşoğlu.
Discussions on human rights
"Switzerland's relations with Turkey are robust," said Cassis in Ankara. For this reason he not only proposed Switzerland's good offices and talked about strengthening bilateral relations, but was also able to broach critical issues. "We had an open discussion on respect for fundamental freedoms – in particular freedom of expression, assembly and the press," he continued, following his meeting with Mr Çavuşoğlu.
Turkey is also important for Switzerland because of its geopolitical situation, its role in the region and its economic weight. Mr Cassis had already spoken to Mr Çavuşoğlu at a working meeting in New York in September 2018. Regular talks take place between Switzerland and Turkey. Mr Cassis invited his Turkish counterpart to Switzerland for a return visit.
Migration poses major challenge
Mr Cassis expressed his concern about the deterioration of the humanitarian situation as a result of the military escalation in Idlib. He thanked Turkey for its efforts in Syria to de-escalate and stabilise the situation. He also paid tribute to the major challenges facing Turkey as a result of the four million refugees currently in the country.
In order to help overcome the refugee crisis, Switzerland is supporting various projects in Turkey. The SDC alone spent CHF 7.4 million for these projects for the 2015–19 period.
Switzerland a major investor
Switzerland and Turkey have maintained diplomatic relations since 1928. Having created more than 15,000 jobs, Switzerland is one of the most important investors in Turkey. Around 600 Swiss companies operate in Turkey. On 19 June 2019, the Swiss Parliament approved the updated Free Trade Agreement between the European Free Trade Association and Turkey.
---
Further information:
Bilateral relations Switzerland – Turkey

---
Address for enquiries:
FDFA Communication
Federal Palace West Wing
CH-3003 Bern, Switzerland
Tel.: +41 58 462 31 53
E-mail: kommunikation@eda.admin.ch
Twitter: @SwissMFA
---
Publisher: