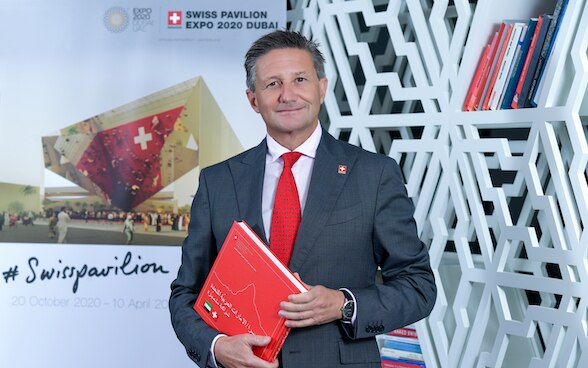 Dear visitors and dear fellow Swiss citizens,
Marhaba and welcome on the website of the Embassy of Switzerland to the United Arab Emirates and Bahrain and of the Consulate General of Switzerland in Dubai.
After four years as Ambassador in Morocco, an eventful period in Milan, during which I dedicated myself amongst other things to the Expo 2015, and several postings with a focus on financial and economic issues in New Delhi, Moscow and Berne, I consider my current function to be a sensible continuation of my previous experiences.
Here in Abu Dhabi, I intend on the one hand to further develop our excellent and varied relationships with the United Arab Emirates and Bahrain. In the previous years, we concluded partnerships in areas, such as education, development cooperation, culture and energy. We were thus able to extend our collaborations beyond the political and economic sectors, which have long been a testament to the profound ties of friendship that mark our relations with the United Arab Emirates and Bahrain. I will continue to seize such opportunities and keep on exploring untrodden paths.  
On the other hand, for the next two years the emphasis will be very much on the Expo 2020 Dubai. I am convinced that the positive impact of this global event will resonate on the United Arab Emirates and on all participating countries for many years to come. For this reason, I will put all my insights from my previous experience in Milan and all the resources at my disposal into making sure that this universal exhibition becomes a durable success for Switzerland and for our bilateral relations.
Of course, at the centre of all our activities there is you, dear fellow Swiss citizens. Every one of you contributes daily to the eminent reputation from which our country benefits in this region. Please do not hesitate to contact us if you have suggestions on how we can improve our website or our service offerings. The Embassy and the Consulate General will be happy to answer your questions and to provide more information.
In this sense, I look forward to spending the next, eventful years with you!
Massimo Baggi
Ambassador of Switzerland to the United Arab Emirates and Bahrain
----------------------------------------------------------------------------------------------------------
حضرات الزوار والمواطنون السويسريون الاعزاء،
مرحبا واهلا بكم على موقع سفارة سويسرا لدى الامارات العربية المتحدة والبحرين وموقع القنصلية العامة السويسرية في دبي.
عقب أربع سنوات من تولي مهامي كسفير لدى المغرب، وبعد فترة حافلة بالأحداث في ميلانو كرست نفسي خلالها من ضمن أشياء أخرى لمعرض إكسبو 2015، وبعد اتمامي عدة وظائف تتمحور حول الشؤون المالية والاقتصادية في نيودلهي وموسكو وبيرن، أعتبر مهمتي الحالية بمثابة استمرار انسيابي لتجاربي السابقة.
هنا في أبو ظبي، أعتزم من الناحية الأولى، تطوير علاقاتنا الممتازة والمتنوعة مع الإمارات العربية المتحدة والبحرين. وقد حققنا في السنوات الماضية شراكات في عدة مجالات كالتعليم والتعاون الإنمائي والثقافة والطاقة، وتمكنا بذلك توسيع آفاق تعاوننا الى ما وراء القطاعات السياسية والاقتصادية التي اتسمت منذ فترة طويلة بروابط صداقة عميقة تميز علاقاتنا مع الإمارات العربية المتحدة والبحرين. وسوف استمر في انتهاز الفرص والسير قدما لاكتشاف مسارات جديدة.
ومن الناحية أخرى، سوف يتمحور العمل خلال العامين المقبلين على معرض إكسبو دبي 2020. واني واثق بأن الوقع الإيجابي لهذا الحدث العالمي سوف يتردد صداه على دولة الإمارات العربية المتحدة وعلى جميع البلدان المشاركة لسنوات عديدة قادمة. ولهذا الهدف، سأضع كل رؤيتي النابعة من تجربتي السابقة في ميلانو وجميع الموارد المتاحة لي للتأكد من أن هذا المعرض العالمي سيصبح نجاحًا دائمًا لسويسرا ولعلاقاتنا الثنائية.
وبالطبع، في قلب جميع أنشطتنا، هنالك أنتم، أيها المواطنون السويسريون الأعزاء. اذ يساهم يوميًا كل واحد منكم في صون السمعة العريقة التي تتمتع بها بلدنا في هذه المنطقة. فرجاء، لا تترددوا في الاتصال بنا إذا كان لديكم اقتراحات حول كيفية تحسين موقعنا أو عروض خدماتنا. وستكون السفارة والقنصلية العامة على استعداد تام للإجابة على أسئلتكم وتقديم المزيد من المعلومات.
وبهذا، أتطلع إلى قضاء السنوات القادمة المليئة بالأحداث معكم!
ماسيمو بادجي
سفير سويسرا لدى الإمارات العربية المتحدة والبحرين