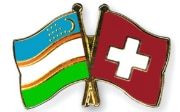 During the meeting, participants discussed results of a regional high-level meeting on integrated water resources management, organized by the Government of Switzerland on 24-26 November 2014 in Basel, as well as prospects for further development of the Uzbek-Swiss cooperation in the implementation of national projects in the field of water management.
It was noted that in the context of global climate change and environmental degradation the wise use of water resources is becoming increasingly pressing issue.
It was emphasized that the Uzbek side adheres to the principle position that all water and energy issues in our region, where major transboundary rivers Amu Darya and Syr Darya are the main sources of water and livelihoods of millions of people living here, should be considered in accordance with commonly accepted norms of international law, set by the relevant UN conventions. These documents require envisage principles of not harming environment and take into account interests of all states at use of resources of transboundary rivers.
The meeting was attended by the Ambassador Nicolas Brühl and Director of the Swiss Cooperation Office Mrs. Ilaria Dali.
Tashkent, Uzbekistan