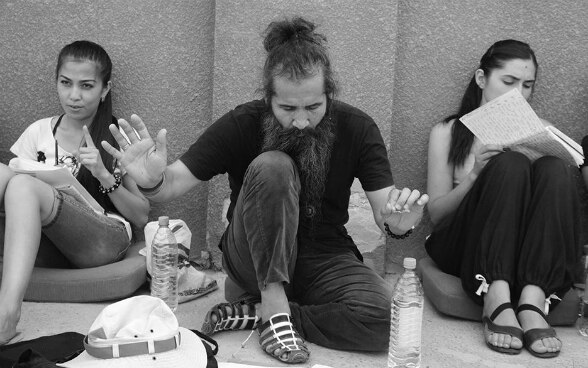 The below is reflection of master-coordinator of the project, the renowned stage director Ovlyakuli Khodjakuli on the overall goal and specific tasks of the project.
- The idea of the project emerged as a result of the long-standing cooperation with theatre teams from regions of the country. You know, stunning young individuals work there. They are gifted, proactive, but at the same time they acutely need information on new tendencies in modern theatre as well as exchange of ideas with experienced masters.
The overall goal of our project is to enhance professional level and knowledge of young stage directors, actors, scene designers through "Ustoz va shogird" (Master and apprentice) educational theatre congregations, thus assisting in the development of theatres from provinces.
As part of our project, there will take place a training course for creative theatre youth from Bukhara, Samarkand, Kashkadarya, Surkhandarya, Khorezm, Andijan, Fergana provinces and Karakalpakstan. Five representatives from each of the provincial musical-drama theatres – stage directors, actors, scene designers are invited to participate in the project. Young persons, working at puppet theatres of Andijan, Kashkadarya and Bukhara provinces have expressed their wish to take part in the project. Young musicians – instrumentalists and singers from the Bukhara College of Arts named after Mukhtar Ashrafi are also engaged in our project. Moreover, professional musical and dance teams of Bukhara will participate in the project.
Leading local specialists and foreign experts from India, China and Japan are participating in our project as masters.
The training course includes master classes on such subjects of scenic arts as stage direction, acting skills, scenic speech, vocal, choreography, scenography and music.
During the concluding phase of the project, there will be a presentation - final appearance of participants of the project (masters and apprentices) under single theatricalized program; in such a manner, we would like to point up the necessity for intergenerational continuity, preserving traditions of transfer of mastery based on "Ustoz va shogird" (Master and apprentice) principle.
- The project is implemented in partnership with and support of the Swiss Agency for Development and Cooperation, Creative-production association "Uzbektheatre", Department of Culture of Bukhara province and provincial theatres.
I would like to mention one more thing: the young stage directors lack knowledge on practice and history of the Uzbek theatre; they cannot organically combine achievements of the modern theatre with skills and techniques of the genuinely Uzbek, traditional theatre. Master classes, meetings with masters of the theatre, socialization within frames of the project are supposed to fill these gaps and to help in applying the acquired knowledge in practice. As a whole, in our view, the project "Ustoz va shogird" (Master and apprentice) will assist in the recovery and restoration of traditional values of the Uzbek musical-drama theatre.
Tashkent, Uzbekistan