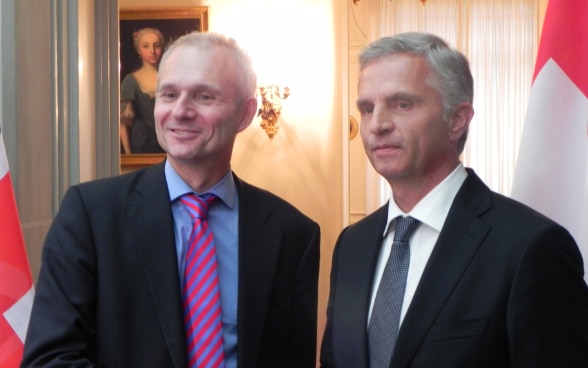 In particular, Mr Burkhalter explained how Switzerland wishes to take into account the popular vote of 9 February, in which the Swiss electorate voted for migration to be better controlled, while maintaining the country's bilateral approach to the EU – an approach that has been approved a number of times by the Swiss electorate in recent years.
Other topics on the agenda were the recent developments in Syria and Iraq, common efforts to combat terrorism, and the mobilisation of the international community against the Ebola epidemic in West Africa.
A previous meeting between Mr Burkhalter, who heads the Federal Department of Foreign Affairs FDFA, and the British Minister of State for Europe, took place in June 2012 in Bern.
The United Kingdom is one of the priority countries for Switzerland's foreign policy. During the talks, the two ministers spoke of the cooperation between the two countries, which cuts across various fields.
Both states share a tradition in liberalism and common values and are often called upon to defend similar positions within international organisations, particularly with regard to individual liberties and human rights. Swiss and British scientists are also involved together in a number of research projects under European programmes and partnerships between universities.
---
Further information:
Bilateral relations Switzerland – the United Kingdom,FDFA web dossier on the OSCE

---
Address for enquiries:
Information FDFA
Bundeshaus West
CH-3003 Bern
Tel.: +41 58 462 31 53
Fax: +41 58 464 90 47
E-Mail: info@eda.admin.ch
---
Publisher: