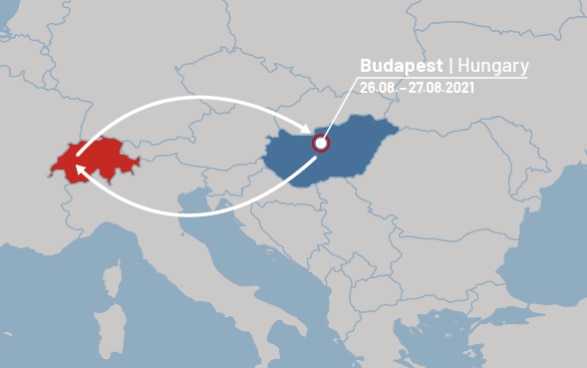 Mr Cassis is travelling to Budapest to deliver a speech on Switzerland's foreign policy strategy at the Hungarian Ambassadors' Conference. Mr Szijjártó has also invited the Belgian Minister of Foreign Affairs, Sophie Wilmès, and the Russian Minister of Foreign Affairs, Sergei Lavrov, to speak at the conference.
In his speech, Mr Cassis will outline the background and content of Switzerland's Foreign Policy Strategy 2020–23 and the geographic and thematic follow-up strategies. Mr Cassis will highlight the strengths of Swiss diplomacy: a long-standing commitment to human rights, peacebuilding, international law and development cooperation. He will also touch on more recent themes, such as science diplomacy and relations between Switzerland and the European Union.
Official working meetings and meetings with Swiss business representatives

Mr Cassis' trip to Budapest will also provide him with the opportunity to exchange views on bilateral, European and international issues with Mr Szijjártó and with Ms Varga, whose remit includes EU affairs. European policy will be the main focus of their talks. During this trip – part of several visits to EU member states Mr Cassis has undertaken since the Federal Council's decision of 26 May 2021 – he will exchange views with Hungarian government representatives about the current global political situation, including in Afghanistan, and meet with representatives of Swiss companies doing business in Hungary.
---
Further information:
Bilateral relations Switzerland–Hungary
Foreign policy strategies

---
Address for enquiries:
FDFA Communication
Federal Palace West Wing
CH-3003 Bern, Switzerland
Tel. Communication service: +41 58 462 31 53
Tel. Press service: +41 58 460 55 55
E-mail: kommunikation@eda.admin.ch
Twitter: @SwissMFA
---
Publisher: