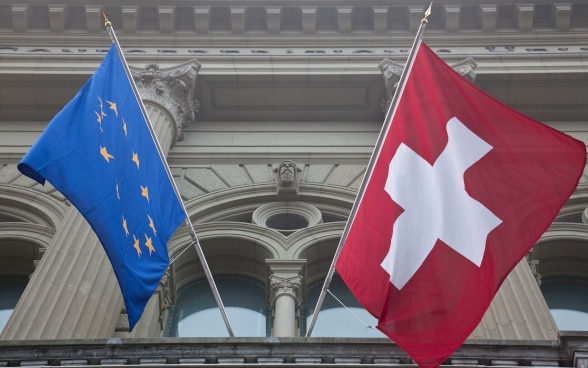 At its European policy retreat, the Federal Council reiterated Switzerland's interest in continuing the bilateral approach with the EU so as to maintain good, stable and mutually beneficial relations.
It will seek to address the pending issues concerning overall Swiss-EU relations based on a broad packet of measures. This will include the institutional issues, which are to be anchored in each individual single market agreement using a vertical i.e. sectoral approach: the dynamic updating of Swiss-EU bilateral agreements, dispute settlement, exceptions and safeguard clauses. The horizontal approach set out in last year's failed institutional agreement is no longer being considered by the Federal Council.
The packet of measures may also include new single market agreements for electricity and food safety as well as association agreements for research, health and education. The Federal Council is also prepared to consider continuing the Swiss contribution as part of its negotiating package. 
The decision taken by the Federal Council on 23 February provides the basis for initiating exploratory talks with the EU. Ongoing work on the existing regulatory differences between Swiss and EU law is continuing in parallel. The FDJP has drawn up an overview of the existing regulatory differences in the single market agreements under Bilaterals I.
These findings have been incorporated into a report that will be released by the Federal Council on 25 February 2022 .
The next phase of the analysis, which the FDJP has tasked to former State Secretary Mario Gattiker, is to identify and evaluate the scope of these measures. This work has already begun and will be consolidated in the coming weeks together with key actors in domestic policy. The results from this work will be used by the Federal Council as a means of negotiating with the EU. Future council meetings will now also include a regular review of the Swiss-EU dossier.
---
Report to the Federal Council(pdf, 278kb)

---
Address for enquiries:
For further information:
FDFA Communication
Tel. +41 58 462 31 53
Tel. Press service +41 460 55 55
kommunikation@eda.admin.ch
---
Publisher:
The Federal Council
Federal Department of Foreign Affairs
Federal Department of Justice and Police