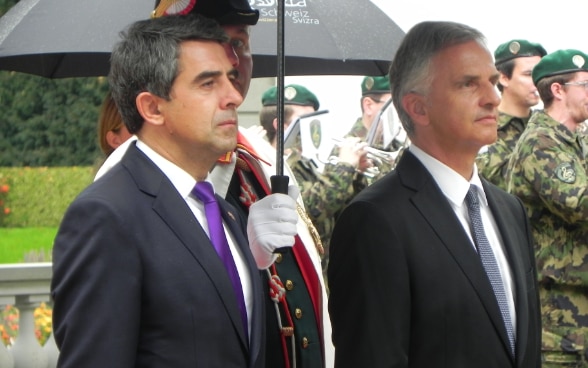 The Bulgarian President was received by Mr Burkhalter at the Lohn Residence in Kehrsatz. The President of the Confederation highlighted the good relations that Switzerland enjoys with Bulgaria, a country of just over seven million inhabitants, and mentioned a variety of subjects such as commerce, science and culture. Welcoming his guest, Mr Burkhalter, Head of the Federal Department of Foreign Affairs (FDFA), indicated that Switzerland hopes to develop relations and cooperation between the two countries.
Trade between the two countries was worth CHF 545 million in 2013, Switzerland primarily exporting pharmaceutical products to Bulgaria. Switzerland is Bulgaria's ninth most important direct foreign investor.
During their discussions, Mr Burkhalter and Mr Plevneliev recalled the contribution Switzerland made to enlargement for the ten states that joined the European Union on 1 May 2004, and for Bulgaria and Romania, who joined the EU on 1 January 2007. Switzerland's budget for Bulgaria amounts to CHF 76 million, as Mr Burkhalter noted in the course of the meeting. The projects Switzerland supports in Bulgaria relate primarily to sustainable development, environmental protection, security and research. In relation to this, Switzerland is currently financing a project worth CHF 3.5 million francs aimed at helping Bulgaria to establish a system of vocational education and training adapted to market needs.
Switzerland's policy on the EU also featured on the agenda for the Swiss and Bulgarian delegations. Federal Councillor Simonetta Sommaruga, Head of the Federal Department of Justice and Police (FDJP), outlined the Federal Council's policy in this field to the Bulgarian president, explaining in particular the work in progress relating to the consequences of the popular vote on immigration policy held on 9 February of this year. The position of asylum seekers in Bulgaria was also discussed. In addition, Federal Councillor Sommaruga and President Plevneliev confirmed that Switzerland and Bulgaria are seeking to work more closely on police matters in the future, and plan to intensify their joint efforts to combat human trafficking.
On the international front, Presidents Burkhalter and Plevneliev discussed a variety of issues, including the crisis in Ukraine. Mr Burkhalter highlighted Switzerland's efforts as chair of the Organisation for Security and Cooperation in Europe (OSCE) in this area and used the opportunity for thanking Bulgaria for sending a delegation, currently of seven persons, on the OSCE observation mission to Ukraine.
---
Further information:
Bilateral relations Switzerland-Bulgaria

---
Address for enquiries:
Information FDFA
Bundeshaus West
CH-3003 Bern
Tel.: +41 58 462 31 53
Fax: +41 58 464 90 47
E-Mail: info@eda.admin.ch
---
Publisher: