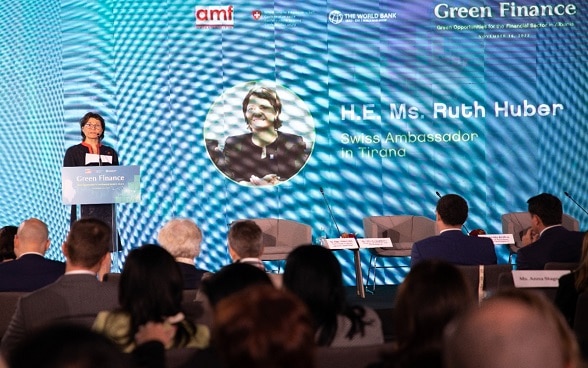 Government ministers and international institutions met to discuss how to leverage the financial sector for meeting climate change challenges. The conference was hosted by the Financial Supervisor Authority (AFSA) and supported by SECO and the World Bank.
"Climate change and the financial sector are connected. Any negative effect of climate change will surely mean also a burden in finance. On the other hand, the financial sector can be steered towards investing in sustainable and green solutions. That is why we are gathered here today, at this conference", said Swiss Ambassador Ruth Huber.

"Regulators and supervisors have a key role in creating conditions that boost green investments, increase the demand for transparency and promote the orientation of capital towards sustainable investments", said the Director General of Albania's Financial Supervisory Authority Ervin Mete.

The conference included panel sessions with several government ministers and representatives from World Bank, Bank of Albania and other financial institutions. Results of a World Bank report also indicated the situation of green finance in Albania and the Western Balkans. Several recommendations on how green initiatives can be promoted were presented for government structures, supervisory authorities and financial institutions.

Recent developments have highlighted the need for countries and governments to consider how the financial sector can be better prepared for dealing with environmental risks and climate change.
AFSA has been supported by the State Secretariat for Economic Affairs SECO since 2015 in capacity building.