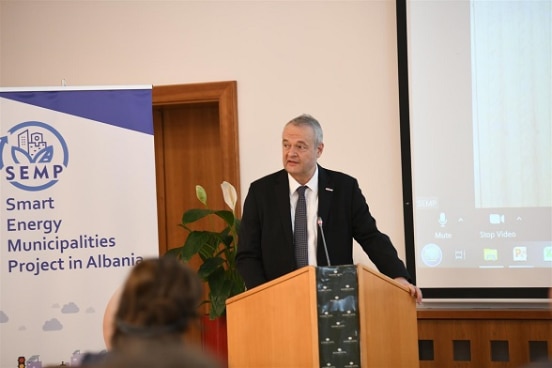 The Smart Energy Municipalities Project (SEMP)' was launched today to support the implementation of the national energy policy and introduce new methods of energy management in Albania.
"It is a pleasure that today we officially start the implementation of SEMP Project. The four Municipalities of the project will use more renewable energy, have better street lighting and save energy consumption. Nowadays intelligent use of energy is a requirement and not a suggestion, and Municipalities come here firstly", said Deputy Minister of Infrastructure and Energy, Ilir Bejtja.

Swiss Ambassador Adrian Maître underlined the importance of Albania's steps towards energy efficiency and the Swiss support in this sector.

"Albania is making steps towards energy efficiency. Current events are showing us dramatically how important it is to find alternative energy solutions, and to conserve and use our energy supplies smartly", said Swiss Ambassador Adrian Maître.
In a changing world, where security of energy supply and energy poverty are rapidly gaining importance, governments are urged to find quick solutions to improve energy efficiency (EE) and develop renewable energy sources. In this situation SECO supports the Albanian government with the development of an energy management system inspired by the European Energy Award in four pilot municipalities (Municipalities of Berat, Korçë, Përmet and Shkodër). This also includes the training of municipal authorities to better implement the national energy policy, especially to identifying energy-related infrastructure measures and improving their capacity to prepare financing proposals.
Of high importance is the increase of awareness about energy efficiency and possible measures to the general public but most of all to vulnerable groups of people. They suffer most and need to gain knowledge what they can do with even limited resources to counterbalance the negative impact of raising energy prices on their daily lives.
Expected results of this project include:
Established and strengthened suitable municipal energy management units in the four municipalities and developed municipal energy and climate plans.
Prepared and realized EE infrastructure measures (quick-win investments).
Increased public awareness on energy management at the municipal level and on energy efficiency in general.
Designed Albanian Energy Management Framework with the potential to be rolled out at national level.
The project is implemented by a consortium of international and national companies working in close collaboration with the National Agency for Energy Efficiency (AEE) acting as national Project Management Unit (PMU). The project will last until the end of 2024.