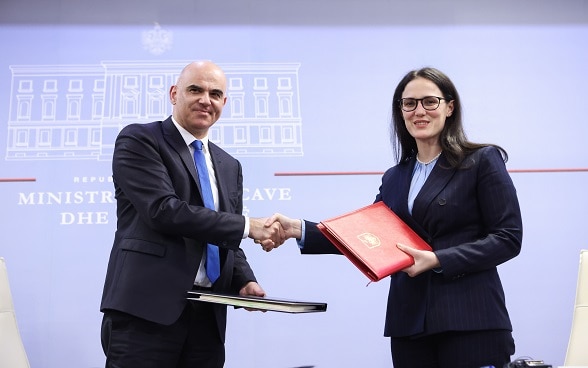 The new bilateral agreement formalises social security relations between Switzerland and Albania. It covers old-age, survivors' and invalidity insurance and complies with international standards on the coordination of social security systems.
"The signing of this agreement improves the social protection of Albanian citizens returning to their country. It contributes to strengthen the very good bilateral relations between Albania and Switzerland", said Minister Berset.  
Minister Ibrahimaj stated that the signing confirms the will and commitment of the government of Albania and the Swiss Confederation to deepen cooperation and to further strengthen the excellent relations between the two countries.
"The implementation of this agreement will have a financial effect for Albanian citizens when they reach the pension age and are entitled for benefits from the social insurance scheme. There are around 2,000 Albanian citizens who live and work in Switzerland, not including Albanian citizens with double nationality. Based on this agreement citizens will not lose even a single daily contribution, regardless of where the worked, since the unification of their contribution periods will enable the fulfilment of legal criteria for receiving pensions in both countries", said the Minister.
The agreement ensures that Swiss and Albanian nationals receive equal treatment in respect of their social security entitlements, facilitates their access to these benefits, and allows pensions to be paid abroad. It also lays the foundations for bilateral cooperation to tackle social security fraud and abuses. Finally, the agreement facilitates the mobility of Swiss and Albanian nationals and protects them against double social security contributions. It will enter into force as soon as the parliaments of both countries approve it.
Federal Councillor Berset and the Albanian Minister of Finance and Economy Delina Ibrahimaj discussed the special support measures that their governments have taken to tackle the Covid-19 pandemic, and the lessons learned from the crisis. They also spoke about the challenges facing their national pension systems and efforts to reform them.