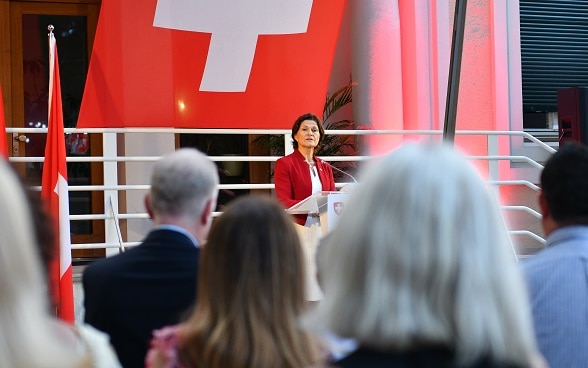 Around 200 guests gathered on the occasion of the Swiss National Day, with this year marking a special 175th anniversary of the constitution adopted in 1848. The new constitution laid the foundation for the Switzerland of today: a modern federal state and Europe's first direct democracy. 
Ambassador Huber's address:
Dear members of Government,

Dear Representatives of the Diplomatic Corps,
Heads of the Religious Communities,
Dear partners, guests and friends of Switzerland,
Dear Swiss fellow citizens,
Grüezi mitenand, bienvenus, benvenuti, mirë-se-erdhët!
Thank you all for joining us today – despite the hot July weather.
What are we celebrating today?
Apart from the annual celebration of our National Day, which formally is the 1st of August, we celebrate this year a special historical milestone: 175 years ago, in 1848, in the midst of turmoil and revolutions in Europe, and after a brief civil war, Switzerland adopted a new federal constitution.
You may ask, why is this so important?
The constitution of 1848 set the foundation for the modern Swiss federal state, as it is today. With a few changes and additions, this constitution is still valid today. It enabled two major developments:

First, Switzerland shifted from a security alliance of cantons to a federal state with a division of power between the central government and the cantons; with significant powers given to the cantons to govern their own affairs.
Secondly, the constitution introduced a two-chamber parliament and also direct democracy, allowing Swiss citizens to have a say in important policy decisions through referendums and initiatives. And it recognized Switzerland as a multilingual and multicultural nation.
These elements laid the basis for the political stability and economic development our country has been enjoying since then.
But we also have to admit that the system introduced in 1848 was not perfect. The women's right to vote was only introduced at national level in 1971. That means, when I was born, my mother did not yet have the right to vote!
As Switzerland celebrates 175 years of its constitution, it is important not to lean back with pride in our system, but be aware that democracy is not guaranteed and cannot be taken for granted. It needs continuous awareness, civic education and improvement.
Even more so in today's world, with a war in Europe, with eroding democratic values in many countries and multiple global crises, we all need to continue working on the respect for fundamental rights and democratic systems, which ensure a life in dignity for all – in  Switzerland, in Albania, and worldwide.
Dear guests,
Switzerland and Albania enjoy strong links and shared values. As many of you know, a large part of the work of our Embassy centres on implementing the cooperation programme in support of Albania's democracy and its economic development.
Looking back at my first year in Albania, I was happy to sign many new project agreements in the frame of our 4-year cooperation programme. We don't have the time to mention all the projects, but a key area is clearly democratic and economic Governance, with projects strengthening key institutions like the National Parliament, Municipalities and Local Councils, the Central Bank, State Audit, the Central Elections Commission - and supporting civil society.
Democratic Governance is key on Albania's path towards European integration.
Dear participants,
I would like to highlight another aspect of the strong links between Switzerland and Albania: The number of arrivals from Swiss visitors to Albania has nearly tripled in the past 10 years.
One reason is surely that there are now 3 airlines connecting our countries with direct flights to Zurich, Basel and Geneva.
and there is clearly a growing interest in the general public for Albania as a tourist destination, from mountains to cultural sites and the seaside.
But another reason – and a special link between our countries - is of course also the high number of Swiss residents and citizens of Albanian origin. Albanian is today the 4th most spoken language in Switzerland.
I'm looking forward to further increasing numbers of visitors, more people-to-people contacts, and our economic and cultural ties.
Dear partners and friends,
Our reception today would not be possible without the contribution of our sponsors: the Swiss companies SGS and SICPA, the Swiss Albanian Chamber of Commerce, SWISSA, and the TashkoPustina law firm.
Special thanks go to Emergency Rescue Albania, ERA, an initiative of the Swiss Foundation for Innovation that has established an excellent example of how emergency services should function. They provide an in-kind contribution through their presence here, at the back of the building, on stand-by to attend any emergency. 
To all the Swiss citizens who live and work in Albania, I wish now:
"Es schöns Fest"!
une bonne fête nationale!
Buona festa nazionale!
And with this I invite you all to taste the food and drinks (that you will find here on both sides of the building), especially our Swiss specialty: raclette!
Let's raise a toast and celebrate. Gëzuar festën!