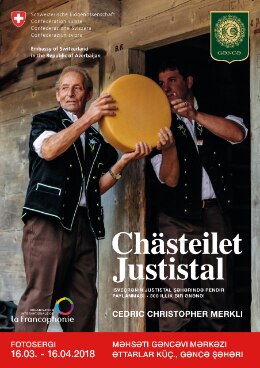 A Film projection of the Swiss movie "Heidi" by Alain Gsponer (Switzerland / Germany, 2015) on Thursday, 15.03.2018 at 15h00, at Yeni Azerbaijan Party Building (Ganja city, Atatürk Avenue, 434). As well as a Photographs Exhibition of Mr. Cedric Christopher Merkli dedicated to "Chästeilet Justistal /Cheese sharing in Justistal" from 16.03.-15.04.2018, opening ceremony on Friday, 16.03.2018 at 15h00 at the Mesheti Genjevi Cultural Centre (Ganja city, Ettarlar Street).
The Movie "Heidi" is a 2015 family movie based on the novel of the same name by Johanna Spyri. It stars Anuk Steffen in the title role, alongside Bruno Ganz and Katharina Schüttler. Heidi (Anuk Steffen), a five-year-old orphan, is brought to live in the mountains with her elderly grandfather Alpöhi (Bruno Ganz). Despite being known as a grumpy old man, he soon learns to love Heidi. For the next few years Heidi grows up happy with her grandfather and her best friend Peter, a goatherd. Her happiness ends when her aunt Dete returns and tricks Heidi into running away with her to Frankfurt to become a companion to a young sickly girl, Klara, who lives in an upper-class family townhouse.
The Swiss photographer Cedric Christopher Merkli graduated in Communication Design in Zurich. His works have been published in various magazines and newspapers. Merkli made especially for this exhibition in Ganja a new collection of photographs dedicated to the antique tradition of the Alp Cheese farmers in Switzerland. These exhibition will plunge the public into a Swiss Alps atmosphere, where they will reconnect with the beauty of the intact nature and learn about antique traditions.
«Since 1739 the traditional "Chästeilet" (cheese distribution) takes place in Justistal. During the summer alpine farmers, produce cheese using the milk of more than 250 cows. At the end of the summer, the cheese is distributed among the farmers according to a 300 years-old ritual, the "Chästeilet". Afterwards, it comes to the departure back to the Alps, when the cows with the highest milk yield will be crowned with a wreath and accompanied form the farmers dressed in their traditional costumes.»