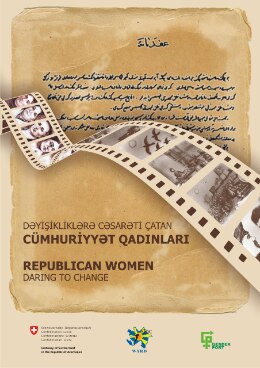 The film has been produced by the Women's Association for Rational Development (WARD) with full financial support of the Swiss Embassy in spring 2018.
The documentary "Republican Women Daring to Change" is dedicated to the 100th anniversary of women's right to vote in Azerbaijan and describes the situation of Azerbaijani women over the last century. In this journey through different historical periods, the focus is on the political contribution of women during the most important historical moments of the country.  In each era, outstanding female role models of their time are introduced. This awareness-raising journey, using a lot of rare archive materials, ends with the question which challenges are still faced by women today and which opportunities are open to them in the 21st century.
The documentary will be screened in the presence of the Swiss Ambassador. After the movie, Ms. Shahla Ismayil, Chairwoman of WARD will provide background information about the film and answer questions from the audience.
The film is in Azerbaijani with English subtitles 
Contact for media: Swiss Embassy, Mr. Atash Sultanov, atash.sultanov@eda.admin.ch
AZƏRBAYCAN QADINLARI HAQQINDA SƏNƏDLI FILMIN PREMYERASI
İsveçrə səfirliyi "Dəyişikliklərə cəsarəti çatan cümhuriyyət qadınları" sənədli filminin nümayişini elan etməkdən öz məmnunluğunu ifadə edir. Biz Azərbaycan tarixində qadınların əhəmiyyətli rolu haqqında olan bu sənədli filmi İMAGİNE Avro Tolerantlıq Festivalına öz töhfəmiz kimi nümayiş etdirəcəyik.
Bu film 2018-ci ilin yazında tamamilə İsveçrə Səfirliyinin maliyyə dəstəyi ilə Rasional İnkişaf Uğrunda Qadınlar Cəmiyyəti (RİQC) tərəfindən hazırlanmışdır və tamaşaçılara tamamilə ilk dəfə olaraq
Çərşənbə günü, 16 may 2018-ci ildə, saat 20:00-da Bakıdakı Yarat Müasir İncəsənət Mərkəzində göstəriləcək.
Giriş pulsuzdur, yerlər "birinci gələnə birinci xidmət olunur" prinsipi ilə tutulur. Səmimiyyətlə hər kəsi dəvət edirik!
"Dəyişikliklərə cəsarəti çatan cümhuriyyət qadınları" sənədli filmi Azərbaycanda qadınlara səsvermə hüquqlarının verilməsinin 100 illiyinə həsr olunub və son əsrdə Azərbaycan qadınlarının vəziyyətini əks etdirir. Müxtəlif tarixi dövrlərə səyahəti təsvir edən bu filmdə diqqət ölkənin ən vacib tarixi məqamlarında qadınların verdiyi siyasi töhfələrə yönəldilir. Hər bir dövr üçün öz zamanının nümunəsi sayıla biləcək görkəmli qadınlar təqdim olunur. Hazırlanmasında xeyli nadir arxiv materiallarının da istifadə olunduğu bu məlumatlılığın artırılmasına yönəldilmiş film-səyahət bu gün qadınların hansı çətinliklərlə qarşılaşdıqları və onlar üçün 21-ci əsrdə hansı imkanların mövcud olması haqqında suallarla sona çatır.
Sənədli filmin nümayişi İsveçrə səfirinin iştirakı ilə keçiriləcək. Filmdən sonra RİQC-in sədri Şəhla xanım İsmayıl film haqqında məlumat verəcək və auditoriyanın suallarını cavablandıracaq.
Film Azərbaycan dilində ingiliscə subtitrlərlə göstəriləcək.
Media üçün əlaqə: İsveçrə səfirliyi, cənab Atəş Sultanov, atash.sultanov@eda.admin.ch