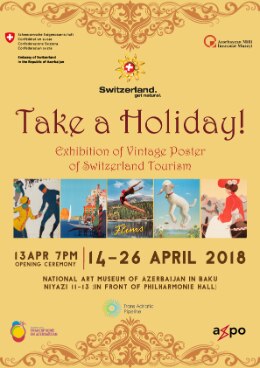 The Embassy of Switzerland is pleased to present the following event in the frame of the Francophonie weeks to the general public:
Vintage poster exhibition « Take a holiday ! » at the National Museum of Art of Azerbaijan in Baku, 13-26 April 2018, second floor of the museum.
Everybody is warmly invited to the opening of the exhibition on Friday 13 April at 19h00 which will be held in the presence of officials from the Ministry of Culture and Tourism, the Swiss Ambassador and a representative of our partner organization, Tourism Switzerland.
The exhibition called "Take a Holiday!" consists of a fine selection of vintage posters promoting tourism in Switzerland during one century (1917-2017). The wider collection of these historic and artistically valuable posters has been exhibited at various museums in Switzerland last year on the occasion of the 100th anniversary of the promotion association « Switzerland Tourism ».
The vintage posters - some of them painted by hand - are witnesses of Swiss history, portrait some of our famous holiday destinations and have chosen beautiful motives such as untouched nature & landscapes, infrastructures, sport events or people.
The Swiss Embassy is thankful to our partners and sponsors, mainly the National Museum of Art, the Ministry of Tourism and Culture, « Switzerland Tourism » (Mr. Federico Sommaruga), Trans Adriatic Pipeline SA (TAP) and Swiss power trading company Axpo Holding SA.
The exhibition will be shown for two weeks at the National Museum of Art of Azerbaijan. Entry to the exhibition is free.
Contact for media: Swiss Embassy, Mr. Atash Sultanov, atash.sultanov@eda.admin.ch