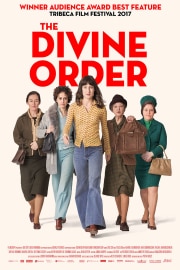 The Embassy of Switzerland is pleased to invite you to the presentation of the Swiss movie "The Divine Order".
The screening of the film will take place on Thursday, 25 October 2018, at 19h30 at Yarat Contemporary Art Space (Baku, Bayil district, National Flag Square). Original language is Swiss German with subtitles in English.
"The Divine Order" ("Die göttliche Ordnung") is a comedy-drama film from 2017 and the winner of the Audience Award for the best narrative film at the Tribeca Film Festival (2017).
Perhaps not everyone knows that Switzerland - despite its century-old legacy of direct democracy - was one of the last countries in the world to introduce female suffrage. It was only in 1971 when Swiss men 'allowed' women in a popular vote to have the right to vote and being elected to Parliament at federal level.
Film director Petra Volpe brings this long-kept "secret" of Swiss Democracy to the big screen in a very funny and entertaining way. The movie is set in Switzerland in 1970 and tells the story of the transformation of a housewife Nora into a change-maker in her small conservative Swiss town. Despite obstacles and backlashes, Nora becomes a hero as she overthrows the status quo together with antiquated views of that time.
Ambassador Philipp Stalder and representatives of the Swiss Embassy will be happy to discuss the movie with you over some refreshments, which will be served at the same venue right after the screening.
Free entry and everybody is more than welcome to join us for a great movie evening!