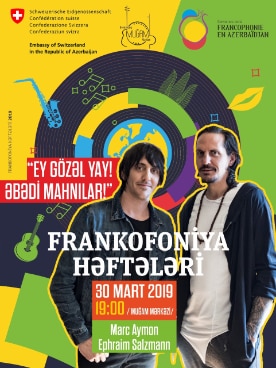 Within the framework of the Francophonie weeks, the Embassy of Switzerland will organize two concerts of two Swiss musicians, one in Baku and the other one in Sumgait cities. The duo – Marc Aymon and Ephraim Salzman will perform in Baku Mugham Centre on 30th March, at 19.00. On 1st April, at 19.00, the Swiss musicians will give a concert in Sumgait State Drama Theatre's hall. This concert will be organized in cooperation with the Executive Authority of Sumgait city.
The project "O beautiful summer! Les chansons éternelles" performed by Swiss singer and guitarist Marc Aymon and accompanied by the drummer (percussion) Ephraim Salzman, showcases Swiss heritage songs in a folk and modern way. The musical duo gained a great success during 2018 concerts not only in Switzerland but also during their concerts given abroad. 
Marc Aymon was born in 1982 in Sion, Switzerland. He is a passionate singer of travels and art. He is the author of four discs: "The astronaut," "An almond tree in winter", "Marc Aymon" and "Of a single mouth". His songs have traveled to South America, Iran, the United States, Africa and the entire French-speaking world. He has given numerous concerts and participated in several prestigious festivals, including the Paléo Festival in Nyon.
Ephraim Salzmann was born in 1975 in Naters, Switzerland. He lives and works since childhood with and around music. Fascinated by rhythm and percussion instruments, he gradually develops his personal expression in the field of percussion, on various instruments such as Valais dulcimer, drums, Kotamo, Handpan, Bockhornxylo and Glasudu. For more than 20 years, he has played on the world stage in Valais, Switzerland and Germany.