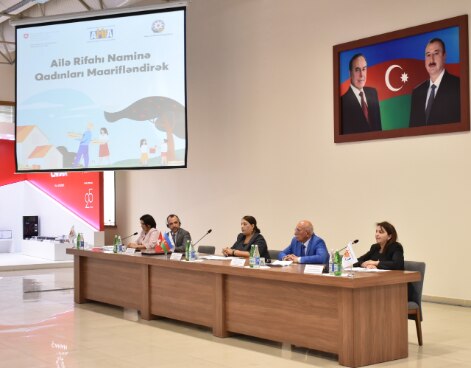 The project launch was attended by numerous high ranking officials and media representatives of NAR. In her opening remark, Ms. Ramila Seyidova, Head of the State Committee for Family, Women and Children of NAR, expressed her gratitude to all involved, including the NAR leadership, Swiss government and AMFA, for the assistance and support of this project.
Mr. Suleyman Kalashov, Deputy Chairman of the Board of AMFA, said that 386 women had benefited from various AMFA project activities since 2018 and a total of 128 women had launched entrepreneurial activities with an input capital of 86'256 AZN in NAR so far. 
Mr. Alberto Hernandez, Deputy Head of Mission/Head of International Cooperation of the Swiss Embassy, spoke about the fruitful cooperation between Azerbaijan and Switzerland. He highlighted that 2022 marked the 30th anniversary of the establishment of diplomatic relations between the two countries and 30 years of our common World Bank and IMF constituencies. During the last 23 years, Switzerland has supported implementation of nearly 90 projects in Azerbaijan worth approx. USD 115 million, including the rehabilitation of around 125 kharizes in NAR during the years 2000 and 2011. He also mentioned Switzerland's international cooperation's satisfaction to be able to support a new project in NAR that addresses such an important issue like women's economic empowerment.
Ms. Jhale Hajiyeva, Executive Director of AMFA, pointed out that such projects create additional opportunities to increase employment in Azerbaijan.
At the end of the event, Sevinj Rustamova, Project Manager, gave more details about the project "Educate Women for Family Welfare" and the participants were able to exchange with some project beneficiaries about their expectations of the project and their future business ideas.
Switzerland's support to Azerbaijan is continuing as part of the new Swiss Cooperation Programme for South Caucasus 2022-2025. Women's economic empowerment is an important aspect of the program and the project in question will contribute achievement of results in this direction.