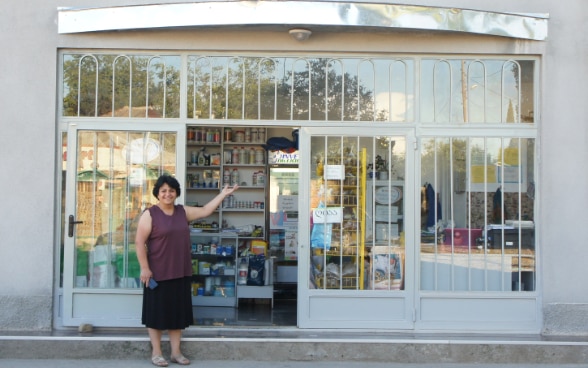 Eka – a veterinary and entrepreneur from Georgia
"It wasn't easy for me. I had to work hard, harder than any men in the district to prove that I can be a professional and I can take a risk just like men can do. Being a veterinary for a woman is not prestigious, they would say. Is it so? Does the profession have a gender? I never agreed."
Eka Buzariashvili was 38 years old when we first met her. A wife and a mother of three children, she started as a veterinary in Sagarejo, Kakheti region. With limited equipment and resources, she heartily served all farmers, predominantly male farmers, in the district. Today, she is one of the most successful female veterinaries in the region and an owner of a veterinary service center rendering service to up to 30 farmers on a daily basis.
"Hard work, education, and dedication! I am not the smartest of all, but workaholic; and everything that I have achieved, it is through persistent work. I always strive for better", Eka shares her secret.
The standardized veterinary service center has been established with the support of the "MOLI in Kakheti" project implemented by the Swiss NGO HEKS-EPER and funded by Switzerland. It is located in the center of Sagarejo and serves local farmers with high quality products. It also provides the most updated information on food, equipment and medicines. This is the only service center of its kind that provides on-call mobile services as well. But established farmers are not the only beneficiaries of Eka's center. 3 students, 2 youngsters and a specialist of the vocational education college in Kachreti have been offered jobs at the veterinary service center.