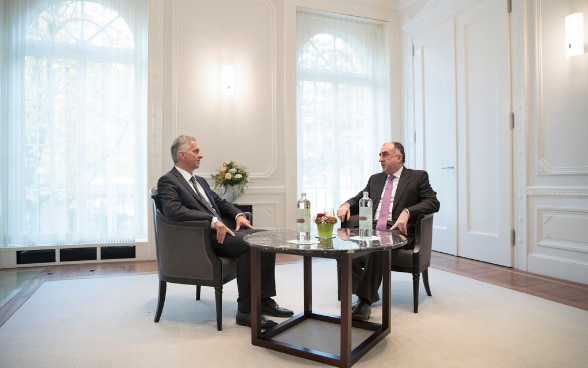 A pivotal country lying between Europe and Asia, Azerbaijan's relations with Switzerland are typified by openness and exchange. The two countries have stepped up their bilateral relations over the past decade by signing several agreements consolidating their cooperation, especially on the economic front. On Monday in Bern, Mr Burkhalter and Mr Mammadyarov signed two new agreements relating to migration, one on readmissions and the other facilitating the issuing of visas.
By signing the readmission agreement, Switzerland aims at simplifying the regulations on the return of persons obliged to leave its territory. The agreement on facilitating the issuing of visas will make it easier for Swiss and Azerbaijani citizens to obtain short-stay visas. By signing this agreement, Switzerland brings its policy on the issuing of short-stay visas in line with that of other Schengen states which apply a similar agreement since September 2014.
During their meeting, Mr Burkhalter and Mr Mammadyarov also spoke on a number of matters concerning bilateral relations between Switzerland and Azerbaijan, including the human rights' situation and cooperation at the multilateral level on this issue. Mr Burkhalter outlined the key elements of the Swiss South Caucasus Regional Cooperation Strategy 2017–20 which defines the joint and coordinated engagement of the Swiss Agency for Development and Cooperation (SDC), the FDFA's Directorate of Political Affairs and the State Secretariat for Economic Affairs (SECO). The discussions also covered economic cooperation – Azerbaijan is Switzerland's main business partner in the South Caucasus region and a number of major Swiss companies operate in the country. Furthermore, energy policy is one of the cornerstones of Swiss-Azerbaijani relations.
Finally, Mr Burkhalter and Mr Mammadyarov addressed the conflicts in the South Caucasus, where Switzerland carries on in its efforts to foster dialogue and reconciliation between the countries in the region. It does so in continuation of its chairmanship of the Organization for Security and Co-operation in Europe (OSCE) in 2014, and in cooperation with international organisations (OSCE, UN). The two ministers also talked about the situation in the Ukraine, and about cooperation within the international financial institutions, given that Azerbaijan belongs to the voting constituencies led by Switzerland at the World Bank, the International Monetary Fund (IMF) and the Global Environment Facility (GEF).
---
Further information:
Bilateral relations Switzerland – Azerbaijan
Switzerland's engagement in the South Caucasus (SDC, HSD, SECO)

---
Address for enquiries:
Information FDFA
Bundeshaus West
CH-3003 Bern
Tel.: +41 58 462 31 53
Fax: +41 58 464 90 47
E-Mail: info@eda.admin.ch
---
Publisher:
Federal Department of Foreign Affairs
Federal Department of Justice and Police