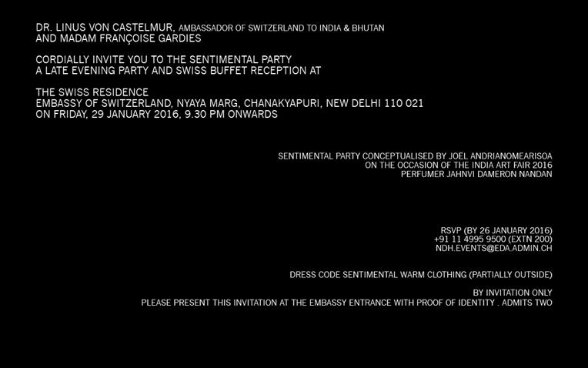 On the occasion of the India Art Fair, the Ambassador of Switzerland to Indian and Bhutan, Dr. Linus von Castelmur, and his spouse, Madam Françoise Gardies, are hosting a late-night party at the Swiss Residence on Friday, January 29, 2016. 
Beginning at 9.30 pm, the reception offers drinks and a buffet-dinner with delicacies from Switzerland. A DJ will heat up the atmosphere and animate the crowd on the dancefloor.
Initiated in January 2013, the yearly event at the Swiss Residence was able to attract more than 800 guests in 2015 and established itself as the party for the art community in Delhi during IAF.
The Sentimental Party evening conceptualized by artist Joël Andrianomearisoa, is organised in collaboration with the India Art Fair, Pro Helvetia Swiss Arts Council New Delhi, Basel Tourism and with the support of Andaz Delhi, Sabrina Amrani Gallery, Revue Noire Gallery and the Perfume Library.
Entry upon invitation only
For more information and RSVP: ndh.events@eda.admin.ch