Embassy of Switzerland in New Zealand
As the official representation of Switzerland, the Embassy covers all matters concerning diplomatic relations between the two countries. It represents Swiss interests in the areas of political, economic and financial affairs, legal arrangements, science, education and culture.
The Embassy in Wellington is also responsible for diplomatic and consular relations with the Republic of Fiji, the Cook Islands, Samoa, the Kingdom of Tonga and Tuvalu as well as for consular relations with Niue and American Samoa.
Celebrating 1 August differently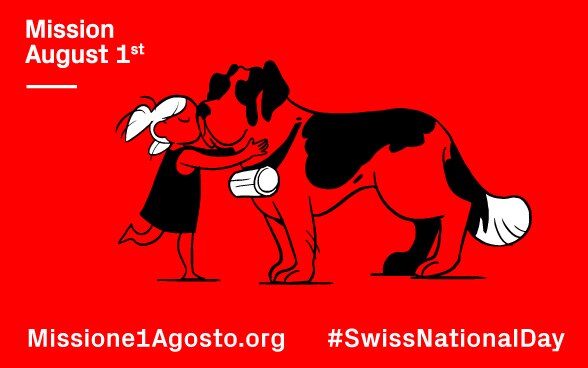 This year's launch of Mission August 1st marks the first time the FDFA is celebrating Switzerland's national holiday online. The multilingual and interactive website – developed by Presence Switzerland together with the Consular Directorate – works as a virtual meeting place for the Swiss abroad, along with lovers of all things Swiss, where they can celebrate 1 August together and share their favourite moments online.
From 27 July, you'll find a wide range of ideas and inspiration for your very own 1 August celebration: www.missione1agosto.org
President of the Swiss Confederation Simonetta Sommaruga: National Day 2020 greetings for the Swiss abroad
© UVEK / swissinfo.ch
CORONAVIRUS (COVID-19)
As we are in a rapidly evolving situation, this Embassy strives to provide the Swiss citizens with the most recent information. Please note that regulations can change quickly and sometimes without prior notice.
The Embassy is aware of the difficult situation that many of our citizens currently encounter. We are making every effort to respond to the many written and telephone inquiries quickly.
Please note that you should not come to the Embassy if you are sick, have been in contact with someone who is sick, if you have recently tested positive for COVID-19, or if you have recently been tested for COVID-19 and are still waiting for the results.
Please also consult this website for new information regularly. We thank you for your understanding and patience.
The Swiss government recommends that Swiss travelers abroad return home as soon as possible. There is no other repatriation flight to Switzerland planned from New Zealand.
We advise all Swiss citizens in New Zealand to comply with the recommendations and regulations of local authorities and the Department of Health. Please keep yourself updated.
New Zealand Ministry of Health
Healthline – 0800 611 116
Temporary Accommodation Service
New Zealand Tourism: Travel Alerts 100% New Zealand
Please also follow the travel advice on the following websites:
Focus novel Coronavirus (COVID-19) of the Swiss Federal Department of Foreign Affairs (FDFA)
Swiss Federal Office of Public Health (FOPH)
Important information "Visa for Switzerland"
Due to the current situation relating to the Coronavirus outbreak, the Swiss Federal Council has decided on 18.03.2020 to stop with immediate effect the issuing of all Schengen as well as National visas for Switzerland until 15.06.2020. Currently, no short-term visa applications are accepted.
Switzerland lifted entry restrictions involving EU/EFTA states and the UK on 15 June. UK/EU/EFTA citizens travelling to Switzerland face no restrictions; freedom of movement has been re-established. Non-UK/EU/EFTA citizens will still face entry restrictions to Switzerland.
For details relating to Swiss entry regulations please consult the Q&A on the website of the State Secretariat for Migration (SEM). In case of urgent inquiries that are not answered by the Q&A, travellers may contact SEM directly (by email or – in the case of emergency – the helpline).
Swiss citizen can enter Switzerland at any time.
Updates on the situation of the Novel Coronavirus in Switzerland can be found on the newsfeed of the Swiss Federal Office of Public Health (FOPH) and the Department of Foreign Affairs, travel advice, "Focus Corona Virus".
Immigration NZ / Transiting through NZ
From 20 June, Swiss Citizens transiting to or from Australia and people departing a Pacific country or territory to retun home do not require a transit visa as long as they have a confirmed flight out of New Zealand within 24 hours to a port which wil accept them. In most cases transit passengers must hold an Electronic Travel Authority (ETA) before travel. Please see Information about NZeTA for further detail.
Please consult the website of Immigration NZ before travelling.
Airlines operating fligths out of New Zealand
Please find below information for flight options/transit. We recommend you get in touch with the relevant airlines or your travel agency to secure a return flight.
Singapore
Transit through Singapore Changi Airport from selected cities in New Zealand to any destination in the SIA Group Network has become available. Singapore Airways
Australia
Qatar Airways is currently offering flights from different locations in Australia ("We will get you home": Qatar Airways). Please consult the airline's website for more information.
For detailled information please visit the website of the Australian Government:
Transiting Australia (this includes advice on visa requirements and criteria for transit exemptions)
UAE
Emirates is operating flights departing Auckland to Dubai (via Melbourne) with next day connecting flights to Zurich.
Visa extensions
Update from Immigration New Zealand
Travellers with a temporary (work, student, visitor, interim and limited) visa expiring before 1 April 2020 who are unable to leave New Zealand must apply online for a new visa. An interim visa will be issued.
Travellers with a temporary visa due to expire between 1 April and 9 July 2020 will have their visas extended to late September. Confirmation of extensions will be emailed to all visa holders.
Please note that Immigration NZ must be contacted for all visa related questions. Swiss representations are not competent in this matter. Thank you for your understanding.
Please visit this page as the Embassy is not in a position to reply to e-mails or phone calls regarding visa matters.
Offers for young people
The Organisation of the Swiss Abroad gives the opportunity to young Swiss living abroad to get to know their home country.
The Foundation for Young Swiss Abroad also has similar offers.
Warning against Ticket Resellers
The Embassy advices to be careful when purchasing online. There are Swiss based operators through which event tickets are being resold, not all of them are serious. However, it is up to the commercial courts to decide whether these business practices are unfair.
If you have any doubt about an online seller, please do an online research.
Press statement by SECO of 3.10.2017
The State Secretariat for Economic Affairs SECO publishes has published a guide regarding online dealing with goods (in German, French, Italian only).