"What does the FDFA advise?"
Many Swiss nationals travelling abroad ask the Federal Department of Foreign Affairs FDFA for recommendations and advice on their journey. A list of questions and answers.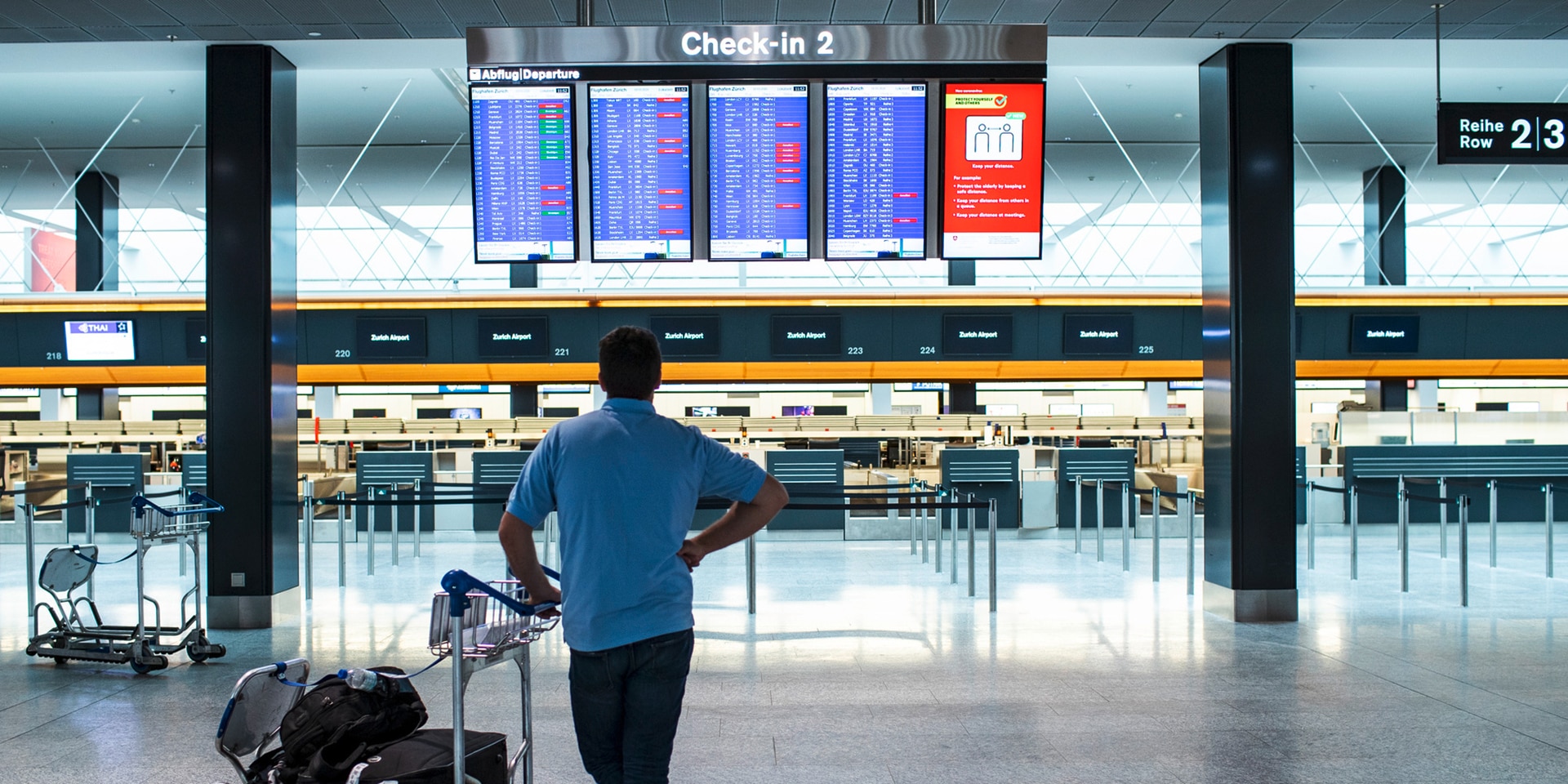 Organizing a trip requires careful planning. © Keystone
Recommendations
The Federal Council recommends not travelling to countries and regions with virus variants of concern. The list of countries and regions with a variant of concern published by the Federal Office of Public Health (FOPH) indicates whether and which countries and regions currently fall into this category.
FOPH: list of countries with a variant of concern
Measures and recommendations in Switzerland and in destination countries should be considered when travelling abroad. A list of recommendations can be found on the site Focus Coronavirus (the page is available in German, French and Italian).

To which countries can I travel?
Where can I obtain information about the health situation and internal situation of other countries?
Other countries' information on the health situation, entry requirements and internal measures to contain the coronavirus can be found on the following websites:
Information on entry restrictions and national measures can be obtained directly from foreign embassies in Switzerland or on the websites of the relevant ministries in the individual countries.
The World Health Organization publishes reports on countries affected by the virus (WHO, Coronavirus disease (COVID-19) pandemic).
FDFA travel advice for security-relevant information regarding the political situation and crime.
Do I have to quarantine when I enter Switzerland from abroad?
The Federal Office of Public Health (FOPH) has decreed that from 6 July 2020, persons entering Switzerland from specific areas will have to remain in quarantine for ten days. Please refer to the list of the FOPH, which is updated on a regular basis. 
What assistance does the FDFA provide for me while I am travelling abroad?
Travellers are fully responsible for their own travel arrangements and for ensuring that their trip goes smoothly and safely.
We advise all Swiss nationals planning to travel abroad to download the FDFA's Travel Admin app, to register the app and enter their journey and current whereabouts. Swiss and Liechtenstein nationals who find themselves in distress abroad can seek assistance and advice from Swiss representations or contact the FDFA Helpline. The FDFA only provides assistance if the persons concerned have done everything that could reasonably be expected of them to resolve the situation and to obtain the funds they need (Help while abroad, FDFA, in French, German and Italian).
Why is it important to enter the journeys on the Travel Admin App?
Basically, the Travel Admin App gives tips and advice on how to prepare for trips. However, especially in crisis situations, the registration of Swiss citizens and their journeys is also important because it allows the FDFA to provide them with important information.
Therefore, in addition to the register personal data  via the App or online, you should also enter the time and place of your current or planned  trip. This will give the FDFA an overview of where Swiss travellers are currently in the world. Please do not forget to delete your journey after your return to Switzerland. This ensures that in the event of a crisis, it is not wrongly assumed that you are still abroad.
It is primarily the responsibility of the individuals to organise the return with the help of a travel agency or directly with the airline. The FDFA provides return assistance by means of information provided by the Swiss representations on the spot. In the event of a request for financial assistance while abroad, please contact the local Swiss representation concerned. (The contact details of the corresponding Swiss representation can be found in the directory of official representations of Switzerland or on the Travel Admin App.) To a certain extent it is possible to grant emergency loans, e.g. to cover medical costs or to continue a stay abroad until return is possible. The FDFA can support persons abroad if they are unable to overcome their situation of distress organisationally or financially on their own or with the help of third parties (family, friends, employers, school, etc.).
What do I have to do to register on the Travel Admin App?
I am a Swiss abroad; can I receive financial support from the FDFA?
Under certain conditions, the Confederation grants welfare benefits to Swiss abroad who find themselves in a financial emergency on a subsidiary basis (i.e. if the host state's own resources and any assistance it may provide do not improve the emergency situation). Please contact the Swiss consular representation responsible for you. 
When entering Switzerland, what do I have to be aware of as a Swiss citizen abroad?
I am a self-employed person abroad and a Swiss abroad. Can I receive financial support (e.g. in case of loss of income) from Switzerland?
The Confederation does currently not provide any financial support for companies or self-employed persons abroad within the framework of Regulation COVID-19. Please clarify your possibilities with the authorities in the host country. 
I have lost my job abroad and would like to return to Switzerland. What help can I get with my job search?
In principle, you can make use of the Swiss public employment agency before you return. Information and forms can be found here. 
Can I receive benefits from Unemployment Insurance (ALV)?
Swiss abroad who live in an EU/EFTA country must in principle claim their benefits in the last country of employment. To do this, you should contact the unemployment insurance in your host country. 
If you return from a country outside the EU/EFTA, you are entitled to unemployment benefit under certain conditions (including 12-month periods of employment abroad and in Switzerland, of which at least 6 months in Switzerland). Clarify questions regarding entitlement and benefits of ALV with the Unemployment insurance in Switzerland in advance. 
We recommend that insured persons contact the Regional Employment Agency RAV or the Unemployment insurance by telephone or e-mail. 
Guide to returning to Switzerland