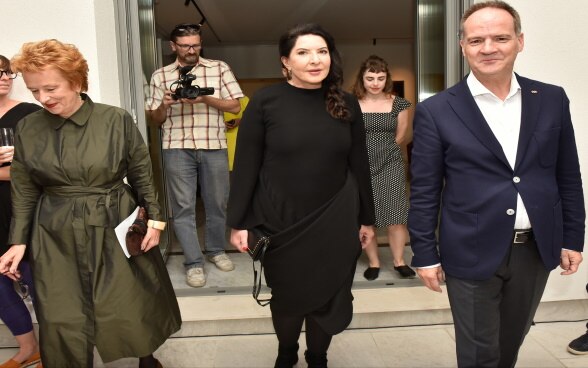 On the occasion of the publication of the Serbian edition of the book "Psychoanalyst meets Marina Abramovic", a reception was held at the Swiss residence. The reception was attended by the author of the book, Jeanette Fischer, the famous Serbian artist Marina Abramovic and the publisher Vladimir Bajac.
Jeanette Fischer stressed that after being published by a Zurich publishing house, the book has now been published in Marina's mother tongue in her native Belgrade. She added that in her performances Marina Abramovic carries out exactly what she explores through psychoanalysis, and that the book was based on recordings of interviews conducted with Marina Abramovic during the summer 2015, when they spent four days together in the artist's house.
On this occasion, the Swiss Ambassador, H.E. Philippe Guex, also delivered an address that you find below:
Dobar dan svima i dobrodošli.  
I am utmost pleased to welcome you at the Swiss Residence for this event taking place on the margins of the fabulous exhibition "the Cleaner" by Marina Abramovic. This breathtaking exhibition - which brings you out of your comfort zone to say the least - is writing a chapter of the history of the Belgrade Museum of contemporary art.
As a fan of contemporary art, it is a one life opportunity to be able to welcome Ms. Abramovic. As you can see the "Artist is present".
I would like also to greet two special guests: Jeanette Fischer who wrote the book: "Psychoanalyst meets Marina Abramovic" and Mr. Bajac who published the Serbian translation of Jeannette Fischer's book. And as you know, the purpose of the reception is to kick-off the Serbian edition of the book by Geopoetika.
The reason why this event takes place on "Swiss soil" here at the Swiss Residence is due to the fact that Jeannette Fischer is a Swiss citizen living in Zurich, and her book was first published by a Swiss publisher.  
There are quite a few occasions where "Switzerland had the chance to meet with Marina Abramovic". Let me give you a few examples.  
First, Ms. Abramovic is of course a regular star guest at Art Basel Fair. She has had, among others, some collaborations with the Beyeler Foundation in Basel or with the Swiss curator Hans-Ulrich Obrist.   
Her exhibition, Artist body – public body, in Bern 20 years ago was a milestone in the landscape for the Swiss contemporary art scene.  
And going back in the early eighties, she shot a video on the Furka pass, very high up in the Swiss Alps, staying at the Hotel Furkablick, famous among artists (Furk'Art, Mark Hostettler).
Too much talking on my side, I will now give the floor to Jeannette Fischer who is going to give some insights about her book after which, I am sure, you will not resist to read the book.