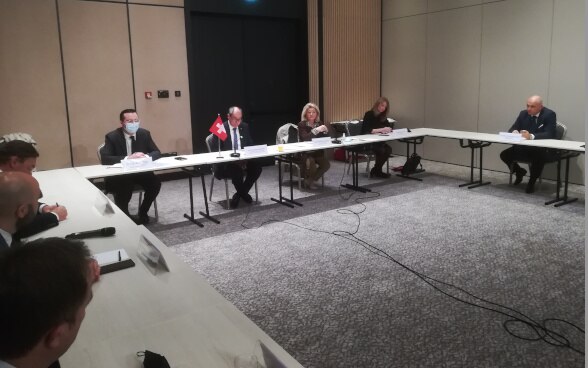 The Ambassador pointed out that the Embassy has remained open to the public throughout the crisis and ensured that essential travel could continue despite the closure of borders for tourists. Despite the circumstances, many political and business visits from Switzerland and important events like the marking of 30 years of successful Swiss-Serbian bilateral cooperation and 20 years since the arrival of the first Basel trams to Belgrade could be successfully realized. One of the highlights was certainly the arrival and "roll in" of the first of three Swiss made high-speed Stadler Rail trains in Belgrade on 29th October.
In terms of bilateral economic cooperation, Ambassador Schmid stated that a growing interest of Swiss companies to invest in Serbia is being observed, especially investments with advanced technology and innovative solutions.
The representatives of the Swiss business community in Serbia and members of the Swiss-Serbian Chamber of Commerce stated that generally they were satisfied with their business achievements in 2020/2021 with optimistic expectations for 2022 despite the challenging economic background due to the pandemic. Ambassador Schmid emphasized that he and his team will continue to do everything possible to further improve the close economic relations between Switzerland and Serbia. The innovative Swiss companies are excellent ambassadors for Switzerland in Serbia and make an important contribution to creating high-quality jobs in Serbia and supporting the country in its modernization efforts.