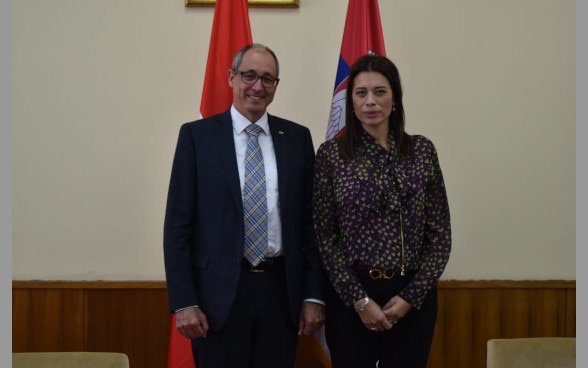 Ambassador Schmid noted that environmental protection has become an agent of change, a driver of innovation, a creator of new jobs and an accelerator of economic development. He underlined that Clean Tech is an increasingly important area of bilateral economic exchange, as was demonstrated by the recent Clean-Tech Exhibition: Swiss-Serbian solutions to protect the environment, where 30 companies presented their activities at the Science and Technology Park in Belgrade.
Swiss Ambassador informed that in the future Cooperation Programme with Serbia 2022-2025, Switzerland will engage more prominently in the field of Climate Change and Sustainable Urban Development, covering climate mitigation and energy transition as well as climate adaptation and resilience of municipalities. He praised the Ministry of Environmental Protection for the new Climate Change Law adopted in March this year, which sets the legal framework for further action in reducing greenhouse gas emissions and adapting to climate change.
Ms. Vujovic presented the progress the Ministry made in development of the legal framework, identified key challenges of the Ministry, and announced the Low Carbon Development Strategy that should be finalized soon, as well as the National Energy and Climate Plan. She expressed her interest to cooperate with Switzerland in the area of climate change and environmental protection. Both also underlined the importance of conducting a broad dialogue with all stakeholders to effectively address environmental concerns.
Ambassador Schmid indicated that Switzerland intends to continue to provide support to Serbia in the energy transition process and the climate neutral development.