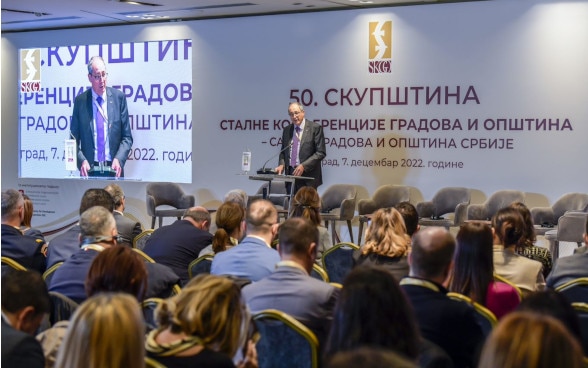 The event brought together a large number of local representatives from over 110 towns and municipalities. After welcoming addresses by Goran Cvetanovic, the Mayor of Leskovac and SCTM President, and Mr. Aleksandar Šapic, the Mayor of Belgrade, introductory speeches were given by Mr. Aleksandar Martinovic, the Minister of Public Administration and Local Self-Government, Mr. Emanuele Giaufret, the Ambassador of the EU Delegation to the Republic of Serbia, Mr. Urs Schmid, Ambassador of the Swiss Confederation to the Republic of Serbia and Mr. Pierre Cochard, the Ambassador of the Republic of France to the Republic of Serbia.  
In his introductory speech, H. E. Schmid pointed out the long-standing cooperation between SCTM and the Government of Switzerland and the joint work on supporting the national reforming objectives oriented towards development of towns and municipalities in Serbia. Through numerous interventions and specific projects Switzerland has provided valuable support in addressing various challenges local governments have been facing – ensuring social protection and inclusion, fostering employment, tackling environmental degradation, digitalization of local services, strengthening citizen participation in decision making etc. 
"The Standing Conference remains our strategic partner in implementing these reforms", underlined H.E. Schmid, and pointed out a particular role of SCTM in linking and bringing together the local and national level of government, which is necessary for coherent and pertinent implementation of the reforms, especially bearing in mind the current context of high inflation and a looming energy crisis. In that regard, the adopted Local Self-government System Reform Programme, as the national strategic framework defining further reforming steps, provides the opportunity to overcome the current challenging situation, i.e., to keep pace with reforms leading towards the increased efficiency and effectiveness of the public services provided by local governments.
"Switzerland has supported the fulfillment of the SCTM vision with approximately 13 million euros since 2005", the Ambassador said.
Moreover, this cooperation is expected to continue and even be broadened in the incoming period through support to the implementation of the new SCTM Strategic Plan 2022/2025, and the key local government system reforms thereof – further development of the local government system including fostered application of good governance principles and the key sectoral reforms, leading towards better access of citizens to their rights.