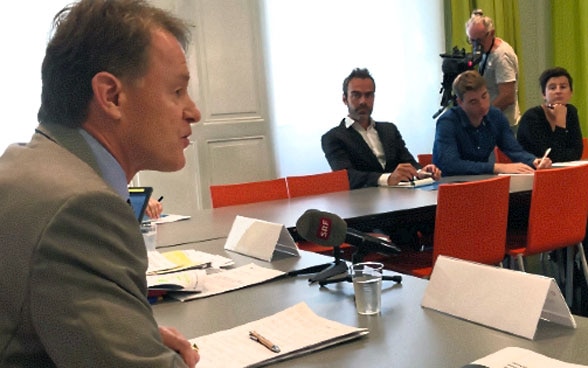 The general conditions for international cooperation have changed considerably in recent years. State and non-state actors need to cooperate more closely in order to mount effective responses to growing challenges in relation to poverty reduction, human rights, migration and the environment. Against this backdrop, the SDC has decided to adjust its strategy for cooperating with Swiss NGOs and update the system for allocating programme contributions which has evolved over time. 
Cooperating with Swiss NGOs creates synergies and multiplier effects, enabling available funds to be used even more effectively and efficiently to help the poorest and most vulnerable communities. The SDC's work with Swiss NGOs facilitates access to Swiss expertise, innovation and services and strengthens civil society in developing and transition countries and in relation to humanitarian crises.
The new allocation system set up by the SDC will ensure that programme contributions are distributed fairly and transparently. From 2021, contributions to the international programmes of individual NGOs will be limited to 30%, while federal contributions to the international budgets of umbrella organisations, cantonal federations and NGO alliances will be capped at 40%. In all cases, a CHF 8 million annual ceiling now applies to each NGO, umbrella organisation or cantonal federation, as applicable. There is no change in the total programme contributions available.
The new allocation system should help to increase competition and boost innovation. Contributions will be reallocated every four years allowing new and existing NGOs to access federal funding, provided that they can bring added value to Switzerland's international cooperation efforts. Any new NGO accessing such funds must meet the quality criteria defined for operational management, accountability and risk management and be accredited with the Zewo quality seal. Cooperating with larger entities such as umbrella organisations, cantonal federations and NGO alliances also lends greater focus to the commitment and cuts overheads.
NGOs play a key role in international cooperation. The SDC channels approximately one third of its funds through NGOs. Swiss NGOs bring specific expertise, experience of key areas or operations and local knowledge to international cooperation, thus contributing to its success. NGOs also help build Switzerland's good reputation around the world, while being firmly rooted in Swiss society. The SDC is currently making a major contribution to the international programmes of some 40 Swiss aid agencies, umbrella organisations and federations, with the ten largest agencies receiving 73% of the CHF 120 million total annual budget for programme contributions. The remaining 27% is distributed to approximately 25 other partner organisations.
---
Further information:
Partnerships with NGOs
SDC guidelines for Collaboration with Swiss NGOs (de)

---
Address for enquiries:
FDFA Information
Federal Palace West Wing
CH-3003 Bern, Switzerland
Tel.: +41 58 462 31 53
E-mail: info@eda.admin.ch
Twitter: @SwissMFA
---
Publisher: