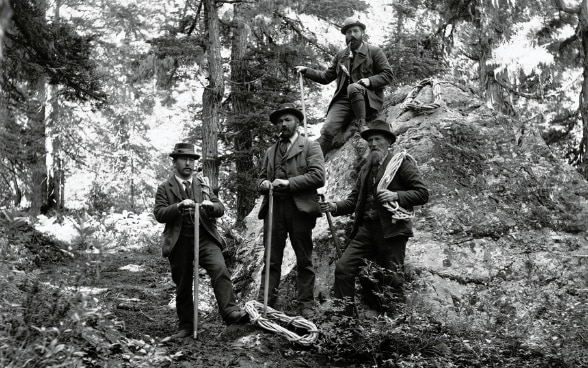 Swiss Guides: Shaping Mountain Culture in Western Canada
The Swiss Mountain Guides in Canada are making headlines again. Their former home, the Edelweiss Village in Golden, BC, is advertised for sale. 
The Edelweiss Village was built in 1912 by the Canadian Pacifiy Railway (CPR) to provide a home for the Swiss Guides hired to make the the Rocky Mountains accessible for mountaineering tourism. The village includes 6 Swiss-style chalets and is currently up for sale.
"Saving Edelweiss Village"
Swiss and Canadian stakeholders have come together to try and preserve this historic site and the Swiss Guides' legacy. You can connect with them and learn more about their plans on how to safe and develop this heritage site for future generations here: www.swissvillage.ca
#SwissGuides Tuesday 
We are taking this opportunity to talk about the work and legacy of the Swiss Guides in Western Canada on our social media channels. Visit us every Tuesday for archive footage, video material and surprising facts about the Swiss Guides and their achievements that are visible until this day. 
Find us here:
Facebook Ottawa / Facebook Montreal / Facebook Vancouver / Instagram Vancouver
Media coverage: 
Canada (a selection):
CBC Listen (English / radio interview) 
Global News (English / article)
Daily Hive (English / article)
Switzerland (a selection):
Swissinfo (E/D/F / article)
RTS (French / video report)
Der Bund (German / article)