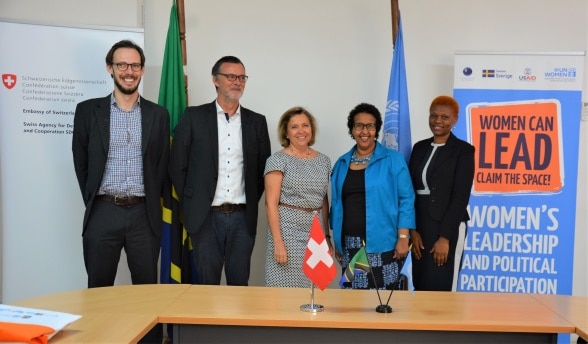 According to the UN Women Tanzania Representative, Ms. Hodan Addou, the Embassy of Switzerland's support in the amount of USD 150,000 will provide funding to the "Wanawake Wanaweza" project, focusing on the training of women towards expanding the pool of qualified and capable women to engage in leadership positions. 
Speaking at the signing ceremony, Ms. Addou emphasized the importance of supporting women's greater participation in politics and leadership, and the greater benefits of women's leadership in society. 
"When more women sit at the table, policies and budgets are more gender-responsive; more resources are allocated for education, health, community development, and the welfare of children and the elderly is prioritized," she said. 
Through the project, about 1,300 women across Tanzania will participate in training to boost their confidence and capacity to lead, enhance their campaign strategies and strengthen their resource mobilization and community mobilization skills. 
In her remarks, the Ambassador of Switzerland to Tanzania, H.E. Florence Tinguely Mattli, said that gender equality and women's empowerment is an important priority area for the work of the Embassy and emphasized the need for providing women with the skills to build their confidence to vie for political leadership positions. 
"I strongly believe that women hold the key to triggering the change we need to make progress towards sustainable development. I am confident this program will help women gain confidence, speak out, take risks and take responsibility towards transforming society at both the local and national level," she said. 
According to a presentation delivered by Ms. Erasmina Massawe, Team Leader for the "Wanawake Wanaweza" project, although the representation of women in the Parliament of the United Republic of Tanzania currently stands at 36.8%, and 37.2% in the Zanzibar House of Representatives, only 10% and 12% of women have been elected through constituencies. At the local level, only 5% of women have been elected as Councilors in Mainland Tanzania, with 21% in Zanzibar. 
"Several barriers exist that hinder women from taking up leadership and political positions in Tanzania, including poverty, which mostly affects women; gender gaps in laws and policies, a patriarchal system; male dominated political institutions, including political parties; lack of self-confidence among women which is contributed to by low levels of education and weak access to information," said Ms. Massawe. 
In addition to building the capacity of potential and actual women leaders, the "Wanawake Wanaweza" project which is also supported by the Government of Finland, the Government of Sweden and the United States Agency for International Development (USAID), seeks to address these barriers through interventions on the gender analysis of legal and policy frameworks, supporting institutional change,  transforming social norms by working with male change agents and strengthening the media to promote women's leadership and political participation.
By UN Women Tanzania