Embassy of Switzerland in Tanzania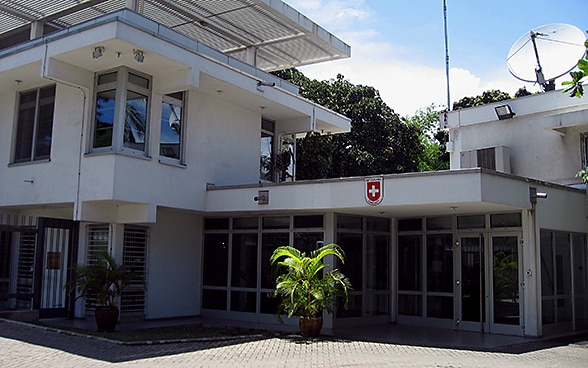 Novel Coronavirus (COVID-19)
For information related to the Novel Coronavirus (COVID-19) kindly consult the information and directives of the local authorities and the recommendations of the World Health Organisation WHO.
In Switzerland, the Federal Office of Public Health FOPH informs in regards to the Novel Coronavirus and publishes travel advice accordingly.
To see what rules apply to your own particular situation when entering Switzerland, consult the online Travelcheck.
For all visa inquiries, please consult the menu "Visa & entry to Switzerland".
ENTRY REGULATIONS
Everyone entering Switzerland must present a completed entry form (rare exceptions may apply, please refer to art. 3 of the COVID-19 Ordinance on International Passenger Transport). It is important to fill out the electronic entry form on a computer or smartphone at the earliest 48 hours before the travel in order to receive a QR code by email. This code needs to be kept at hand for inspection upon arrival in Switzerland. The controlling authority can impose a fine if the entry form is not completed or if the information provided is false.
On entering Switzerland by air or bus, everyone aged 16 and over and is not vaccinated or have not recovered from COVID-19 must be able to show the negative result of a PCR test (performed no more than 72 hours prior to entry).
TRAVEL ADVICE FDFA
The Travel Advice FDFA (in German, French and Italian) offers travelers basic information for travel preparation by informing on possible risks and certain precautions. They are to be considered as a complementary source of information.
FDFA Travel Advice with focus on COVID-19
The Swiss Federal Department of Foreign Affairs requests Swiss
travellers abroad to register now on the Travel Admin App.
For urgent requests, kindly contact the Embassy or the FDFA Helpline:
+41 800 247 365
+41 584 653 333
As the official representation of Switzerland, the Embassy covers all matters concerning diplomatic relations between the two countries. It represents Swiss interests in the areas of political, economic, financial and legal affairs, as well as science, education and culture.