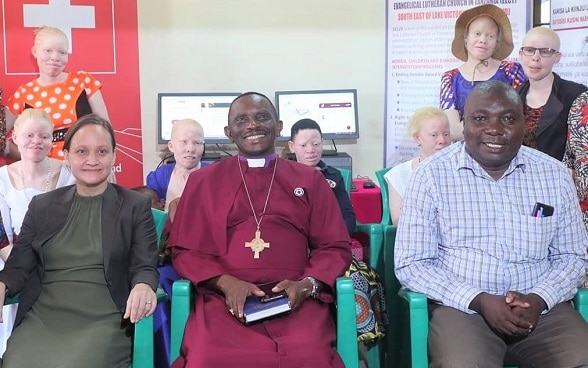 Gender-based violence is a global issue that affects millions of women and girls. Tanzania is no exception. Four in ten Tanzanian women have experienced physical violence and one in five have experienced sexual violence. Oftentimes, for both types of violence, the perpetrator is an intimate partner. Social norms and systemic barriers inhibit most survivors of violence from reporting and seeking help. For those who do seek help, they are unlikely to receive support, and friendly and quality care. There is therefore a need to explore innovative solutions to encourage help-seeking as well as improve quality of support provided.
Through Swiss support, the Aino Aid™ will be further advanced to act as a conversational chatbot giving GBV survivors the ability to voice their experiences, 24/7, and receive psychosocial support. The chatbot will address identified barriers to seek help, including a need for anonymity, fear of being judged, and negative repercussions of disclosure.
In March, a team from the partnership travelled to Shinyanga Region with the objective of ensuring Aino Aid™ chat is user-friendly and useful for this group of rights holders. Girls living with albinism from the Diaconia Centre received desktop computers to support piloting of the Swahili version of the chatbot. This was part of a wider co-design initiative across multiple regions of Tanzania.
Once operational, upon determining the immediate need of the survivor, the Aino Aid™ chatbot will direct survivors to the nearest and requested GBV service providers and community justice initiatives/organizations. This will have a double effect of strengthening existing service systems by lowering the burden of human resources and solidifying referral pathways.
Members of the partnership includes the Evangelical Lutheran Church in Tanzania (ELCT) and the Finnish Evangelical Lutheran Mission (Felm) who bring in on-the-ground programmatic GBV and persons living with disabilities expertise; C-Sema Tanzania who run the National Child Helpline that is also linked to a regional network; KIWOHEDE, an adolescent girl-focused national NGO; Hyvinpitely, a start-up specializing in psychosocial support for survivors of intimate partner violence; and We Encourage, focusing on low-threshold impactful innovations.
Switzerland is proud to finance the development of Aino Aid™, complementing its commitment to support innovation and gender as transversal themes in the Swiss Cooperation Programme Tanzania 2021-24. The chatbot is being co-created with the GBV national services and non-governmental partnerships. It focuses on organisations that reach the most vulnerable girls and women and those that are often the first to receive reports of violence, faith leaders and other faith actors. Switzerland believes partnerships between governments, civil society, and private sector are the best way to leverage resources and create sustainable and impactful systems.