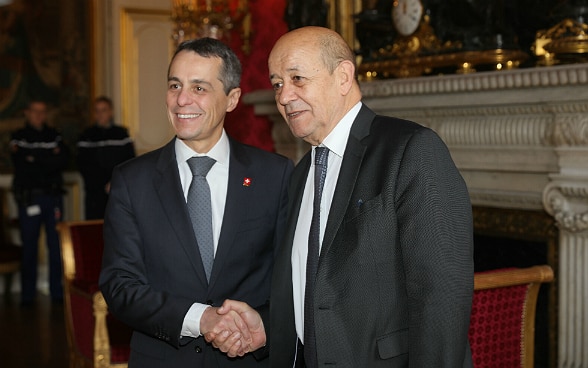 At the beginning of 2018, the new tax regime will enter into force at Basel-Mulhouse airport. Among other things it clarifies the taxes that Swiss companies operating at EuroAirport have to pay to Switzerland or France. Official notification has still to be received from France that it has ratified the agreement.
Following approval of the agreement yesterday by the French National Assembly, however, this notification is now a mere formality. Coming out of his meeting with Mr Le Drian today in Paris, Mr Cassis said "The agreement is a success for both our countries and for the economic development of the entire tri-national Upper Rhine region. It creates legal certainty for the companies based at EuroAirport, i.e. on French soil, makes it possible to continue with the important infrastructure development supported by both states and has the potential to create new jobs."
Mr Cassis and Mr Le Drian also confirmed the conclusion of negotiations on the rescinding of the 1931 assistance agreement between the two countries.
This agreement, which has been no longer in force since the end of November 2017, governed the mutual reimbursement of social assistance payments to certain nationals of one of the countries resident in the other state.
The talks, which also served as the first opportunity for the foreign ministers of the two neighbouring countries to meet, underlined their close bilateral relations. With a trade volume of around CHF 27 billion, France is Switzerland's fourth biggest trading partner. Swiss and French researchers currently work together on no fewer than 459 projects under the EU's framework programme for research. Over 170,000 cross-border commuters travel from France each day to work in Switzerland, while more than 100,000 people are employed by around 2,200 Swiss companies in France.
  
In addition to bilateral issues, the conversation focused on the situation in Europe, Switzerland's policy with regard to the EU and international issues. With regard to Switzerland's EU policy, Mr Cassis and Mr Le Drian discussed, among other things, the state of implementation of the new constitutional article on migration (Art. 121a Cst.) and the negotiations on institutional issues. The situation following the UK's exit from the EU was also discussed.
---
Further information:
Bilateral relations Switzerland - France

---
Address for enquiries:
Information FDFA
Bundeshaus West
CH-3003 Bern
Tel.: +41 58 462 31 53
Fax: +41 58 464 90 47
E-Mail: info@eda.admin.ch
---
Publisher: