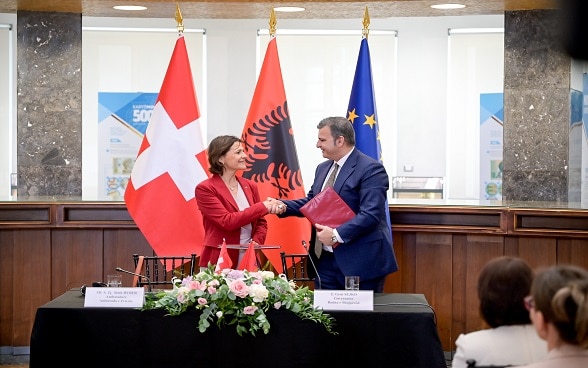 The Bank of Albania and the Swiss State Secretariat for Economic Affairs SECO commit to another five years for the project 'Bilateral Assistance and Capacity Development for Central Banks'
"The new agreement that we sign today, like the first one, enables the Bank of Albania to be part of the rich, deep and diverse bilateral assistance programme in the field of central banking. The purpose of this cooperation is to help improve analysis, decision-making, and therefore the policy-making process of the Bank of Albania through the qualification and development of human capacities. I think that we have already laid solid foundations, which ensure an even stronger partnership for the second phase", said Governor or the Bank of Albania, Gent Sejko.
"Today the Government of Switzerland, through SECO, commits to continue providing technical assistance and support to the Bank of Albania for the next five years, which means that our cooperation will add up to a total duration of 15 years. This third phase of the programme  will further build technical and institutional capacities for effective policies and an efficient financial sector.", said Swiss Ambassador Ruth Huber at the signing ceremony.
Previous phases of the project have resulted in higher capacities of BoA employees and management including in policy-making, in research and analysis. During this third phase the project will support the Bank of Albania in areas such as financial inclusion – making financial services more accessible to a broader population – and in environmental sustainability to address the consequences of environmental and climate change on finance and the economy.
Central banks have a key role to play in maintaining stable economies in the region, and building their capacities is important for a sustainable economic growth. Through the new phase of the project, the Bank of Albania will enhance its core tools, processes and staff capabilities and knowledge.

The Swiss State Secretariat for Economic Affairs SECO has mandated the Geneva Graduate Institute to implement the technical assistance programme with the Bank of Albania. Economic development is a key area for the Swiss cooperation programme in Albania.