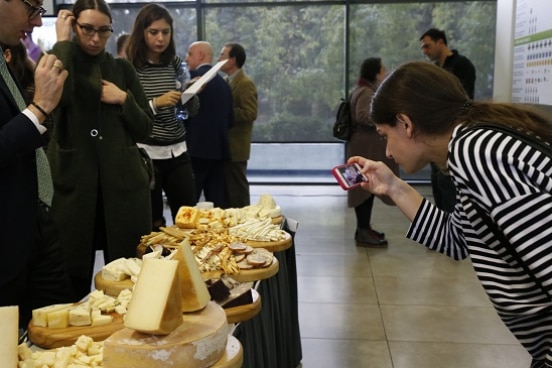 Implemented by Swiss HEKS-EPER and funded by the SDC, the project covered all eight municipalities in the Kakheti region. The project worked with businesses and institutions from which small-scale farmers receive inputs and services, or sell their produce to. Well-targeted activities brought the project to significant results: 82 enterprises and 27'000 farmers benefitted from the project; the productivity of dairy farmers increased by 30% and that of meat-producing farmers - by 40% resulting in an overall income growth to as much as GEL 18 mln. (CHF 7 mln); 44 VET pharmacies located in Kakheti region were fully equipped and provide improved services to 36'000 farmers. 
"I'd like to thank the SDC, our traditional partner, and Swiss people for their significant contribution to the development of agriculture in Georgia through various projects, such as the MOLI in Kakheti. I'd like to also thank the Swiss organization HEKS-EPER for successful implementation of the project and for bringing their expertise in this sector," said deputy minister of agriculture and environment protection Nodar Kereselidze in his opening remark. 
In response, regional director of cooperation Olivier Bürki thanked the Government of Georgia for unwavering support throughout project lifetime and noted about Switzerland's continuous engagement in Georgia's agricultural sector. 
"Market-based approach is of critical importance for the development of agriculture in Georgia. The MOLI in Kakheti is edging towards its end and in view of this I'd like to congratulate all stakeholders, including farmers, enterprises, associations, especially diary association, for the solid partnership established and, more importantly, for the results achieved. Agriculture remains the priority of the Swiss Cooperation Strategy 2017-2020 in the framework of which we continue to contribute to the development of agriculture of Georgia," said Olivier Bürki. 
One of the tangible results of the project is a membership agreement between the Diary Georgia and the European Dairy Association signed on the same day, 22 November. Secretary General of the European Diary Association Aleksandre Anthon spoke high about project results pinpointing the intent of his organization to make for the strengthening of the dairy sector in Georgia as a vital sector of the animal agriculture development in Georgia. 
The beneficiaries of the project took the floor in turn to describe the mode of cooperation with the project presenting their quantitative and qualitative benefits thereof. The invited guests had an opportunity to try dairy products produced in Kakheti with the support of the MOLI project.