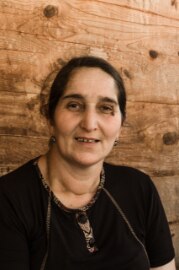 Mayvala Surmanidze, Fushrukauli village, Georgia
Mayvala Surmanidze, 52, is one of 135 residents of the Phushrukauli village and the only woman who ardently tries to revamp an ancient Georgian tradition of beekeeping. Jara is a very rare type of beekeeping that can be found today in a remote mountainous region of Ajara (West Georgia). It is a hive made from hollowed-out logs placed high in remote places and in trees to protect from bears.
Wild bees have always been present in Makvala's life. As a child, she was giving a hand to her father in running a family business of one hundred and twenty Jara hives. For the past thirty years, after her husband passed away, honey from wild bees helped her and her four children make both ends meet.
"Our village is known for Jara beekeeping. There was a time when almost every family would have Jara hives. It was very prestigious and highly priced. Buying a bee family was quite expensive at the time: one family would be traded for a goat, and a lamb," remembers Makvala.