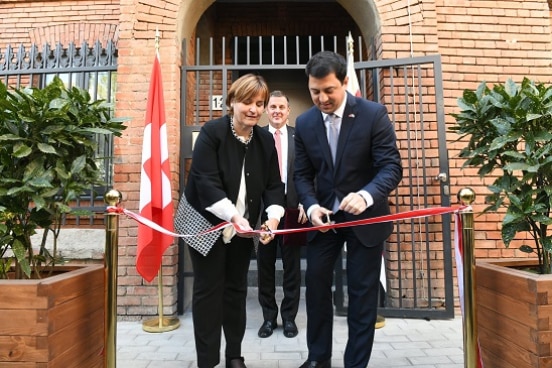 The Inauguration of the new Embassy building
Today, on 28 October, at 13:00, the new Embassy of Switzerland at Radiani Street, Tbilisi, was officially opened in a ribbon-cutting ceremony by the President of the Swiss Parliament, Mrs. Marina Carobbio Guscetti, and by the Chairperson of the Georgian Parliament, Mr. Archil Talakvadze.
"Switzerland is and will continue to be an honest and reliable partner for Georgia, and to share its values and experiences. Most notably, Switzerland will remain engaged in supporting the consolidation of Georgia's democracy. On the one hand, this implies strong and resilient institutions, and especially a strong parliament fulfilling its task of oversight, as well as an independent judiciary enforcing the respect of the rule of law. On the other hand, beyond the institutional reforms, this implies the development of a culture of political dialogue based on respect, which should allow the inclusion and constructive participation of all layers of society and minorities in the political life," said Mrs. Carobbio Guscetti.