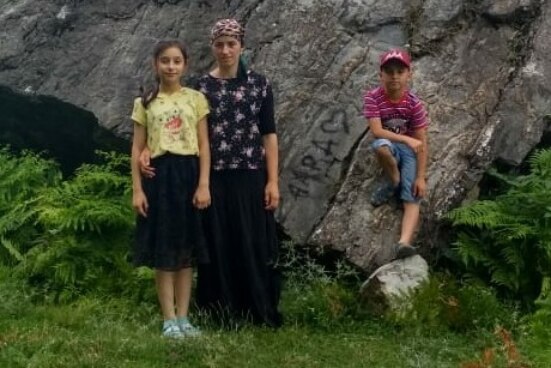 Georgia
To answer the question of what kind of life a modern 25+ years old girl is supposed to live, many would say that she is probably single with higher education and looking for career opportunities, perhaps while traveling and having fun with friends; or, perhaps she just got married having met the love of her life, and so on. There can be many variations to these scenarios – indeed, the sky's the limit – but none will come close to the life story of Madina Bagakashvili.
When Madina Bagakashvili had just turned 16, the so-called master of the family name, i.e. the Bagakashvilis, foisted an arranged marriage upon her. She had to marry a person she did not know, and whose marriage proposal she had already declined. She had different plans, but the master of the family was adamant that she would be married.
"I did not know him, he was from another village. The master promised me that my new family would let me continue my studies."
Now at the age of 28, Madina is a widow with two children, twelve and nine years old, and a bedridden mother-in-law to take care of. Her husband died two and a half years ago, leaving her holding her newest baby. It was a heavy burden on her fragile shoulders to be in the service of such a sizable family. In addition, the world around has started to collapse due to the pandemic. Yet as the saying goes, when life gives you lemons, make lemonade – which is just what Madina did.
"With no education, all I could do was to sharpen my sewing skills. Before the coronavirus, my two friends and I had received funding and bought sewing machines. We planned to sew sheets, towels and clothes for the villagers. Then the pandemic started, and that turned our plans upside down. The coronavirus is a disaster for everyone, please don't get me wrong, but it offered us another opportunity. There was a growing need for face masks, and we quickly adapted. We sewed more than 500 face masks, and at that time, we were the only providers for neighboring villages."
Madina and her friends have big plans. Once the pandemic is over, they will expand their atelier and offer more even services to their fellow-villagers.