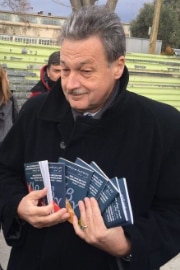 The Embassy of Switzerland in Athens collaborated in 2016 together with the United Nations Refugee Agency (UNHCR) in Greece, the two Greek Non-Government Agencies EADAP and Metadrasi, as well as with support of the Ministry for Migration Policy on the publication of a Mini-Lexicon, with the goal to simplify the communication between migrants and refugees on the one hand, and locals and English speakers living in Greece on the other hand.

The Mini-Lexicon has been financed by the Swiss Agency for Development and Cooperation and facilitates the exchange of information on everyday topics, as well as in regards to protection, accommodation, food and health, with special chapters for women and unaccompanied minors.
15'000 exemplars will be distributed throughout Greece. The Mini-Lexicon is available in six languages: Arabic, Sorani, Farsi, Urdu, Kurmanji and French.
The documents are available for download on the Embassy's website.