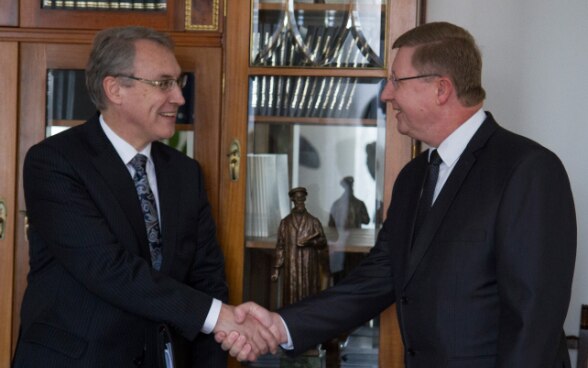 To miss the city of Debrecen while traveling in Hungary is like traveling to Rome, without visiting the Vatican. This comparison is no coincidence: Debrecen plays an important historical role in the reformed religion, it is even known as the "Calvinist Rome". Geneva on the other hand, the "actual birthplace" of the international Calvinism received the epithet "Protestant Rome". The largest easternmost city in Hungary and the largest westernmost city in Switzerland have lots of historical commonalities from the Reformation era: There has been a close cooperation between the leaders of the town and the church regime, which was also inherent in Geneva, under the spiritual leadership of Calvin at that time. In 1567 the Debrecen's synod accepted the "Confessio Helvetica Posterior" (the Second Helvetic Confession written by Heinrich Bullinger) as the denomination of the city, which is still valid for all Hungarian speaking reformists today.
On the occasion of the festivities of the 500 anniversary of the reformation next year, an initial brainstorming session between the Swiss ambassador, the bishop Károly Fekete and the acting mayor László Papp took place, to discuss a possible cooperation with Geneva and the association of the reformed churches (evangelischer Kirchenverbund). Next year, Debrecen will not only celebrate the 500th anniversary of the reformation, but also the 450th anniversary of the "Confession Helveticae Posterior".
On the occasion of program series "Coup de coeur de l'Ambassadeur" initiated by the "Groupe des Amis de la Francophonie" the Swiss ambassador was invited to the French speaking department of the Fazekas-Mihály-Highschool, to talk about his country and his activities as a diplomat. The students took the opportunity to ask the ambassador in the following Q&A session about Switzerland and his life as a diplomat.
On the occasion of the visit in Debrecen, the ambassador had also the opportunity to meet Nicola Todeschini, a promising young talent of the Swiss figure skating team and he had the chance to wish him good luck for the championships. 177 young ice skaters from 44 nations participated at the junior world championship in Debrecen and fought for podium positions.