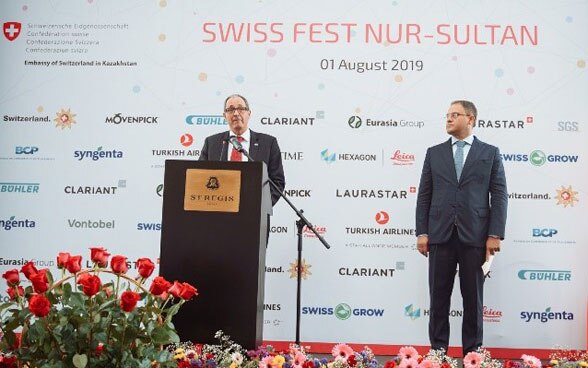 The Kazakh music group "Qorqyt" welcomed the guests with tunes played with national Kazakh instruments and opened the official ceremony with the anthems of both countries. The Swiss Ambassador Mr. Urs Schmid and the Kazakh Vice-Minister of Foreign Affairs Mr. Roman Vassilenko greeted the guests and highlighted the excellent relations and fruitful cooperation between the two countries. 
The generous support of numerous sponsors from businesses linked to Switzerland made it possible to offer Swiss national delicacies and beverages as well as invite the Swiss Alphorn Trio who treated the guests to a unique and special musical experience. 
During the second half of the evening, DJ Otto performed a wide range of music, which attracted many guests of all ages to the dance floor.