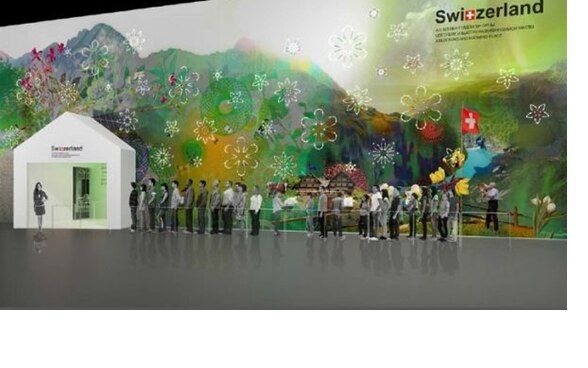 The Swiss Pavilion at EXPO-2017 will attempt to recreate the famous Swiss natural landscape. The concept requires however that the visitors to the Pavilion must actively contribute in order to achieve this natural beauty, mirroring the real-life effort each and every one of us must make in terms of energy efficiency, sustainability and cooperation. 
Upon entering the Pavilion, the visitors are initially confronted by a grey and bland space. Once they interact with the proposed themes the landscape comes to life and turns green. Visitors learn that their daily involvement with energy, their awareness of climate change and global cooperation have palpable consequences on the environment they inhabit.
In addition to this interactive landscape, a knowledge-exchange-hub will bring together scientists, students and entrepreneurs from Switzerland, Kazakhstan and beyond. In a series of events, workshops and temporary exhibits, international energy researchers will seek solutions to energy-issues together. Science works beyond national boarders and only through academic networks can we find global solutions. 
The Swiss Pavilion located in the block C1-2.5, with the total space of 560.5m2, will present innovation projects in the field of energy efficiency, sustainability and cooperation. Switzerland is an innovation leader and offers a platform to witness and discuss smart future energy. More information on the Swiss Pavilion is available on kazpravda.kz.