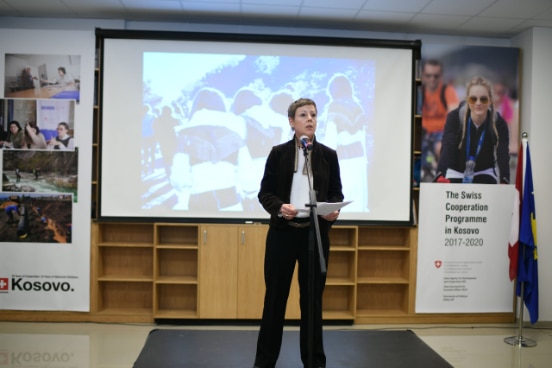 In a ceremony gathering national and international partners, stakeholders and the media, Switzerland launched its Cooperation Strategy Kosovo 2017-2020. The Deputy State Secretary of the Federal Department of Foreign Affairs, Krystyna Marty Lang, underlined the strong relations between the two countries and the long-term Swiss commitment to support Kosovo's development. The year 2018 marks 20 years of cooperation and 10 years of diplomatic relations between Switzerland and Kosovo.
Rooted in the spirit of the agreements of cooperation between the governments of Switzerland and Kosovo, the Swiss Cooperation Strategy Kosovo 2017-2020 aims to contribute to the progress of Kosovo on its path towards regional and European integration, fostering a democratic political system, a peaceful and cohesive society, providing inclusive access to essential services, the rule of law and a social market economy.
In complete alignment with the priorities of the Government of Kosovo, Swiss support in the period 2017-2020 focuses on the following priority themes:
Democratic Governance and Human Security
Economy and Employment
Water and Climate Change Resilience
Health
The financial commitments for the period 2017-2020 amount to CHF 85 million. Switzerland is Kosovo's third largest bilateral development partner.
For more information, check the Swiss Cooperation Strategy Kosovo 2017-2020 (PDF, 52 Pages, 9.5 MB).
A shorter version of the strategic document is also made available in English (PDF, 8 Pages, 3.0 MB, English), Albanian and Serbian.