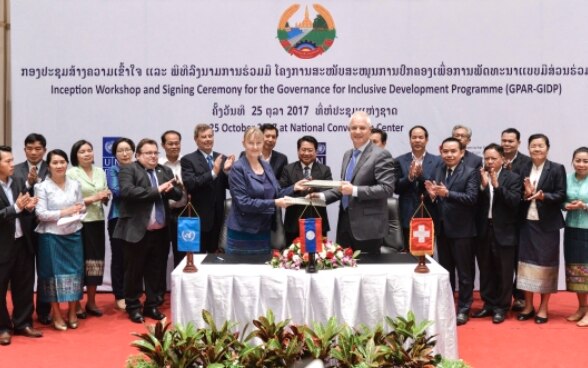 Social inclusion and citizens' needs stand at the core of a new programme, entitled Governance for Inclusive Development. People who may have been omitted from services extended by the Government in the past, in particular women and members of ethnic groups, are receiving a special focus in the new programme. A framework of accountability and a citizen feedback mechanism, including regular citizen's surveys on local service delivery and improvements, will ensure avenues to capture responses and align interventions.
The idea of supporting national and local levels to deliver quality services to citizens is not new. The current programme relies on achievements and lessons from former projects under the framework of the National Governance and Public Administration Reform Programme. Partnerships for such initiatives were formed as early as the mid-1990s, and the current Governance for Inclusive Development Programme 2017-2021 benefits from the government's leadership as well as these long-established synergies. The new programme provides a platform to align development assistance through the government system, in the spirit of the Vientiane Partnership Declaration. The Vientiane Partnership Declaration helps to ensure that all funds, efforts and knowledge for development bring about the maximum possible impact, to 2025 and beyond.
Mr. Khammoune Viphongxay, Vice Minister of Home Affairs, opening the programme's Inception Workshop highlighted the crucial role of partnerships : "The new Governance for Inclusive Development Programme will be delivered in partnership with Ministry of Planning and Investment, Ministry of Finance, participating Provinces and Districts, and local communities. It is also a testament to all our long and successful relationship over many years with UNDP and Switzerland – and one that continues into the future."
At the signing ceremony of funding for new programme, attended by the Vice Minister and Mr. Tim Enderlin, Regional Director of the Swiss Agency for Development and Cooperation, Mme. Kaarina Immonen, UNDP Resident Representative said: "The Governance for Inclusive Development Programme seeks to enhance and expands partnerships.  This happens on one hand through the Governance Sector Working Group, which is a part of the National Round Table Process and promotes multi-stakeholder policy dialogue on good governance and gender policies, on the other hand through the engagement of civil society."
The new programme's planned initiatives correspond with the targets of the Sustainable Development Goals (SDGs) which aim to create an inclusive and sustainable future for all, with the target date of 2030.