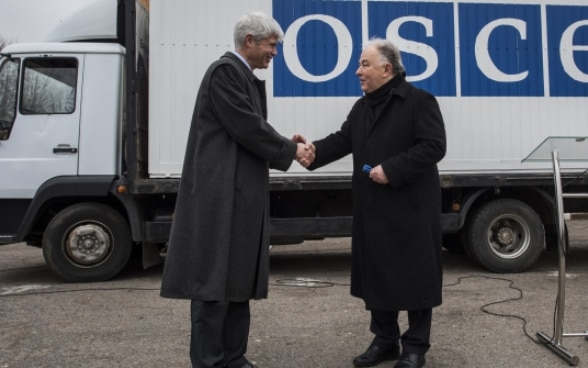 Each module sleeps two people and is furnished with beds, wardrobes, lighting as well as heating and air conditioning units. They can be connected to the local power grid or to generators, depending on what is available.
In the coming days, the accommodation modules will be deployed to the team based at the SMM Forward Patrol Base in Stanytsia Luhanska.
"We are grateful to the Government of Switzerland for this generous contribution that will enhance our operations," said OSCE Chief Monitor in Ukraine Ertugrul Apakan. "The modules are based on solutions commonly found in deployed missions around the world. They are extremely useful in areas where local accommodation or office space is limited due to destruction during a conflict, or where there are no buildings, such as in open fields or along roads."
Swiss Ambassador to Ukraine Guillaume Scheurer said: "Switzerland is fully committed to SMM's efforts in contributing to security and peacebuilding in Ukraine. The accommodation modules, financed by the Swiss Federal Department of Defence and built by a local Ukrainian firm, are a supplementary Swiss contribution to the SMM that was created under the Swiss OSCE Chairmanship in 2014. I am glad to announce that Switzerland is ready to provide more accommodation modules in the near future."
For PDF attachments or links to sources of further information, please visit: OSCE