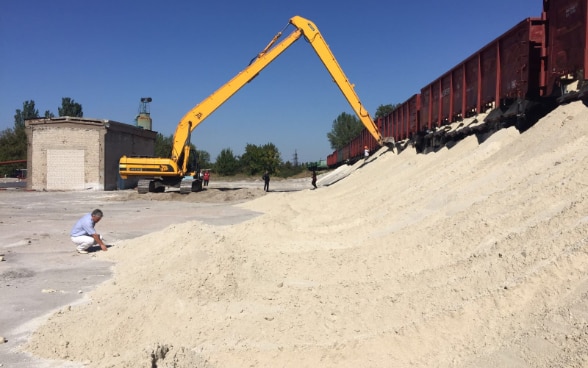 The sand was transported in a series of shipments by train from the beginning of September from the west of Ukraine to the city of Kostyantinivka, near the contact line, where it was handed over. From there the first train crossed the contact line and reached the Donbass waterworks near Donetsk, where the sand will be cleaned in a special plant before being used for treating water.
The Swiss humanitarian action was delayed at the last moment after the railway track on the non-government-controlled side was damaged last Friday by an explosion. It is not known who caused the damage.
The sand is being transported to the Donetsk region in approximately 50 wagons. "By supporting the Donbass waterworks we are helping millions of people on both side of the contact line in these difficult times. Water means life," says Manuel Bessler, the delegate for Swiss Humanitarian Aid, explaining Switzerland's action.
In previous consignments, Swiss Humanitarian Aid, which is part of the Swiss Agency for Development and Cooperation (SDC),  supplied chemicals such as aluminium sulphate and chlorine as well as medical materials and medicines. For treating drinking water, however, not only chemicals but also sand is required.
Filtration with quartz sand is one several stages of water treating drinking water and is mechanical process. With time, however, the sand is ground down and loses its effect. For this reason it has to be regularly replaced. There are no suitable sandpits in the Donetsk region which is why Switzerland decided to organise this shipment of sand. 
The 3,500 tonnes of sand will make it possible to supply some four million people living on both sides of the contact line with drinking water for approximately one year. As the sand is being supplied for a humanitarian action, the sandpit operator in the west of Ukraine provided the sand without charge.
The aid consignment is being monitored and supported by staff of the SDC and specialists from the Swiss Humanitarian Aid Unit. The current consignment is the fifth that Switzerland has sent to the conflict region since spring 2015. So far, the SDC is the only state actor to organise humanitarian convoys that cross the contact line in eastern Ukraine.
---
Address for enquiries:
Information FDFA
Bundeshaus West
CH-3003 Bern
Tel.: +41 58 462 31 53
Fax: +41 58 464 90 47
E-Mail: info@eda.admin.ch
---
Publisher: