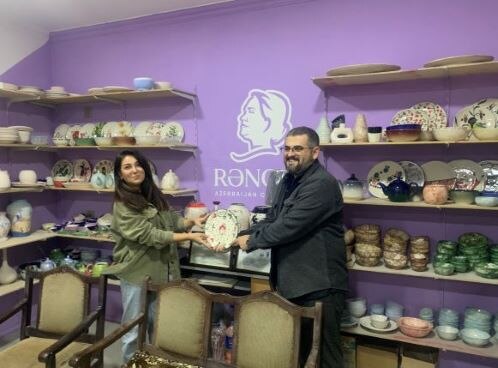 Sevinc Cahangirli is a 29 year-old woman from the Bina village of Baku. For most part of her professional life she worked as a marketing specialist helping different business entities and organizations, though her background was in the field of teachers' training. Because of her interest in social work, she also joined different grant competitions organized by the government and implemented projects related to disabled people and marketing education.
"But I wanted to have my own business, for me it was important," says Sevinc. "I first tried it with a colleague, but we could not continue for her personal reasons. Then I started showing interest in making pottery some two and half years ago. The problem was that there was no opportunity for any education/training for this, so I was learning from online services, like youtube," she adds.

The good luck was that Saleh Qasimov, Sevinc's fiancé, was a designer and artist. As a marketing specialist, Sevinc saw a good opportunity in the fact that her fiancé could support her in making pottery. They started getting involved more seriously and selling some of their products.

"By mid-2021, we were already ripe to establish a firm producing different pottery. We decided that we should not only produce souvenirs, but also daily-used pottery in order to increase our production," she says.

When Sevinc and Saleh established their brand they decided that they would associate it with the deceased mother of Saleh, a strong and creative woman. So, the brand of Rangli (Colourful) pottery and porcelain with a silhouette of Saleh's mother as a symbol was established by the end of 2021.

"Though we established our business in a professional way, we still needed external support. Exactly that time our roads with the Swiss-funded project "Women's Economic Empowerment", which is being implemented by the United Nations Development Programme UNDP, came across. The project provided us with some useful training and needed equipment, like a pottery wheel and a camera. However, the biggest impact of the project on our work was promotion of the business," Sevinc says.

The prospects look very promising for Rangli. Sevinc says that the government also shows interest in what they do, as the company strives to revive an old popular handicraft tradition.

"If you ask me about the secret of my success, I would point to my family and my fiancé. I am indeed a lucky person because when I started my business, my parents supported me. But after getting to know my future husband, I received all my support from him. Unfortunately, this is a luxury not many girls enjoy in this country," says Sevinc with a mixed feeling of pride and grief.