Consulate General of Switzerland in Shanghai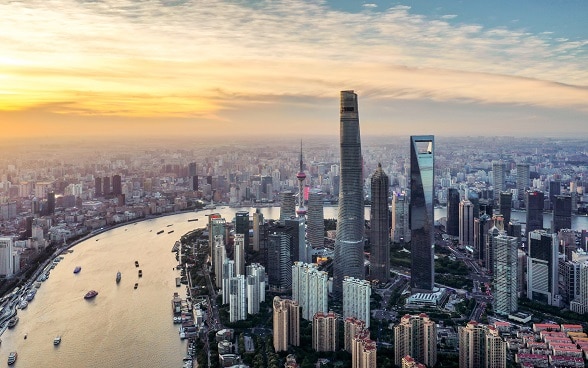 The Consulate General is responsible for the Swiss community living in the provinces of Anhui, Jiangsu, Zhejiang and the municipality of Shanghai. The Swiss living in and around Shanghai have regular occasions to meet and socialize at various events organised by Swiss organisations in the city. There are currently about 600 citizens registered at our Consulate General, most of them in Shanghai itself, which makes it a lively and interesting community to be part of.
COVID-19
Entry into Switzerland
Entry into Switzerland is possible for Swiss citizens, EU/EFTA citizens, persons with a valid Swiss residence permit, as well as for fully vaccinated Chinese (or other third country nationals) with a valid Schengen visa. Information on the visa process can be found on our website.
For non-vaccinated Chinese nationals entry into Switzerland is only possible in situations of extreme necessity (hardship cases). This also applies to all other third-country nationals who wish to enter Switzerland coming from risk countries or regions and do not belong to an exemption category according to the Covid 19 Regulation 3 (see above).
On the official homepage Travelcheck you can check whether and under which conditions you are allowed to enter Switzerland.
Non-vaccinated travellers over the age of 16, who cannot prove that they recovered from Covid must present a negative PCR test result when boarding the aircraft. Vaccinated travellers and those with proof of recovery from Covid do no longer need to provide a PCR test before entering Switzerland, it is sufficient to present the vaccination certificate/proof of recovery.
Detailed information can be found on the website of the Federal Office for Public Health FOPH on entering Switzerland.
Every person entering Switzerland by airplane must present a completed entry form (exceptions may apply in rare cases; see Art. 3 of Regulation COVID-19 on the International Movement of Persons). It is important to complete the electronic entry form on a computer or smartphone at least 48 hours before travelling in order to receive a QR code by e-mail. This code must be kept ready upon arrival in Switzerland.
Please note that each airlines carries out the check-in and boarding process at their own discretion. We therefore recommend that you contact the airline beforehand to check the requirements and use direct flights whenever possible.
Further information on entry requirements can be found on the website of the State Secretariat for Migration (SEM) and the FOPH.
COVID certificates for persons vaccinated abroad
Swiss citizens living abroad who have been vaccinated with Sinopharm (BIBP) or Sinovac can apply for a Swiss COVID certificate when visiting Switzerland. You should contact the cantonal office of the canton in which you will be living during your next stay in Switzerland. Chinese family members travelling with you can fill in the online application form of the National COVID Certificate Application Platform directly.
The Swiss COVID certificate and wearing a face mask is now mandatory for entering most indoor places and events. Where it is not possible to wear face masks or at places where food and drinks are consumed while standing, a negative COVID test result might be required in addition.
Please check the detailed regulation on the FOPH website on the COVID certificate.
Vaccinations for Swiss citizens living abroad
Swiss citizens living abroad and their close family members of foreign nationality (must be living in the same household) can now be vaccinated during their stay in Switzerland.
The implementation of the vaccination is regulated by the cantons. Please contact directly the competent authority of the canton in which you will spend your next stay in Switzerland.
Vaccination (Yangtze-Delta)
Official information from the local authorities can be found on the websites of the respective provinces (only in Chinese): Shanghai, Anhui, Jiangsu, Zhejiang. The information is updated continuously.
Travelling back to China
For more information on the requirements of the Chinese authorities to return to China after your stay in Switzerland, consult the webpage of the Embassy of the People's Republic of China in Switzerland or the Consulate General of the People's Republic of China in Zurich.
Consular Section (not for visas)
In case of emergency, consular services remain also available outside office hours:

Helpline of the Federal Department of Foreign Affairs (FDFA): +41 800 247 365, +41 58 465 33 33, helpline@eda.admin.ch