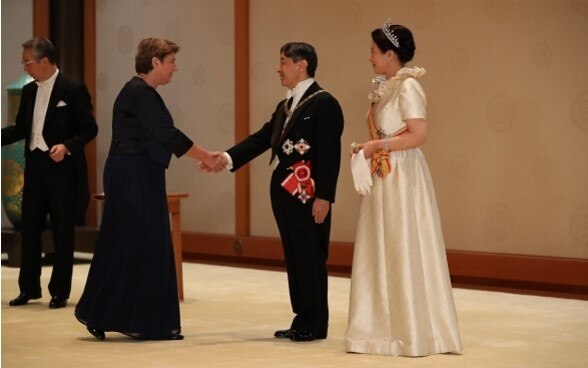 Federal Councillor Viola Amherd, Head of the Federal Department of Defence, Civil Protection and Sports attended the enthronement ceremony of His Majesty the Emperor Naruhito on October 22, together with dignitaries and representatives from some 180 other countries and regions. The Federal Councillor had the opportunity to convey to the Emperor the congratulatory messages of the Federal Council and the Swiss People. She also expressed the wish of Switzerland to welcome the Emperor again for a visit to our country. In 2014, His Majesty the Emperor, the then Crown Prince, already visited Switzerland, in the context of the celebrations of the 150 years anniversary of diplomatic relations between Switzerland and Japan.
In Tokyo, Federal Concillor Amherd visited the Meiji Shrine, in addition to B-Side Harajuku and The Mass, where the exhibition "Swiss Design / Made in Japan" was held as part of the Embassy's campaign "Doors to Switzerland" on the road to the Tokyo 2020 Olympic and Paralympic Games. The Mass and other premises in the direct vicinity will be the location for the House of Switzerland Japan 2020 that will open its doors in July next year. Federal Councillor Amherd expressed her enthusiasm for the Swiss presence in Tokyo ahead and during the Games of 2020.
After the visits of President Ueli Maurer in June and of the Minister of Economic Affairs, Education and Research, Guy Parmelin, in July, she was the third Federal Councillor to be welcomed in Japan during the course of 2019.